OktoberFest – any time, any where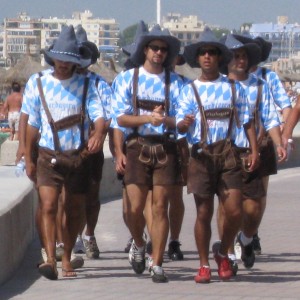 By Les Lea
      I never knew a festival… like the Oktoberfest… would have such an effect on me.
Late September, and walking down the excellent seafront of Arenal, Mallorca, I came across the MegaPark complex; a huge, custom-made edifice that gives the mainly German holidaymakers in this area a taste of home… with Bavarian beer, music and food. For those who couldn't make it to Munich, the place had its own festival and it was terrific to see that all tourists seemed to be enjoying the huge steins of beer, the bratwurst and the music.
Yes, the Oompah Band wondered around keeping the party atmosphere going as did serving wenches in costume and waiters in their leather shorts. I have to admit that for me at least a room full of guys in leather shorts is an unbelievable turn on so I was well in my element.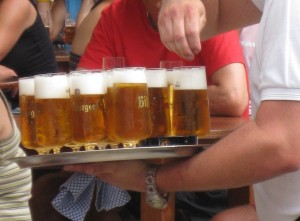 I suppose this image is the one that says -OKTOBERFEST the most. Men in kurze (short) lederhosen with armfuls, fistfuls and trays-full of beer efficiently serving the singing and swaying throng. The crowd feeling part of something fun and exciting… even if it might appear to be foreign.
However, I have now been to Oktoberfests in other cities and they seem to happen on any month of the year, the main thing is to soak up the convivial atmosphere that such an event produces… no matter when.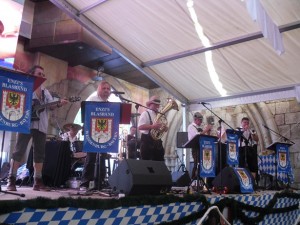 Majorca gave me a taste for a good Oompah Band, beer and the occasional sausage… now I want to experience the real thing in Munich. Mind you, my home city is now planning one and I simply can't wait.
I have my lederhosen ready.