Kinky Boots: Believe the Hype!
by Terry Gee
Most of us have seen the film and know the story of how a factory stopped producing shoes and started making footwear for drag queens; but how well does it transfer to the stage?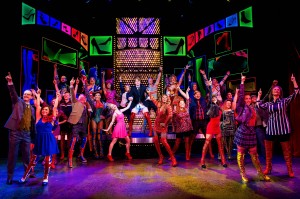 As my headline suggests, pretty well!
Based on the true story of a shoe factory in Northampton, we are drawn into a world where provincial meets fabulous. After the death of his father, Charlie Price is pulled away from his fiancée and new life in London to take care of the struggling family business. A chance meeting brings Charlie and London drag queen Lola together and an unconventional relationship is born.
Kinky Boots first debuted in Chicago before moving to Broadway in 2013 and after a month of previews, we now have it here in the West End. Harvey Fierstein has written a fantastic story and Cyndi Lauper's score is just brilliant. Show stopping numbers come one after the other and keep the audience and performers constantly energised. The casting has a number of standout performances especially from both the leads, Killian Donnelly (Charlie) and Matt Henry (Lola).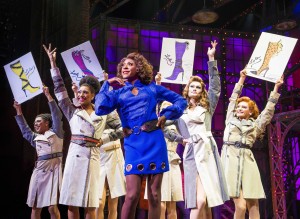 Before attending the show, I was told by a friend to look out for one cast member in particular. He said 'I'm not going to tell you who, but when you see her, you'll know she's going to be a huge star'. He was talking about Amy Lennox who plays factory worker Lauren and she really is an amazing performer. An incredible talent who can act, sing and make an audience laugh with just a gesture of her hand. (Seriously!) In my opinion Amy is already a star and I'll be very interested to see how her career progresses from here.
And then we come to the Angels; the six drag queens who own the stage as soon as they step out onto the boards. Dancing and jumping around in six-inch heels is one thing but dancing and jumping around in six-inch heels while singing in time and in key is simply breath-taking.
Even though the show only opened this week, there wasn't an empty seat in the theatre. Every single person rose for a standing evasion the second the show ended and I have rarely seen so many happy faces while leaving the auditorium.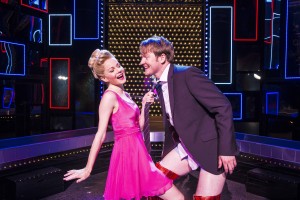 Kinky Boots is a definite must-see show. It's fun, camp, brilliantly written and performed and has so many catchy tunes; you'll have them stuck in your head for days.
Someone asked me if it was worth seeing, my reply was; It's a song and dance spectacular with drag queens and music by Cyndi Lauper – what do you think? It also has a very important message: friendship can come from anywhere and your life can change and be helped by anyone. Open your hearts and your minds and accept people for who they are. It's a brilliant message and a fantastic show.