Bent USA – I Hope My Mother Doesn't Read This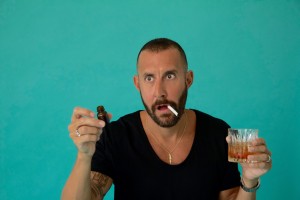 Greg Scarnici is an American comedic artist and musician whose music video and commercial parodies have been viewed over 10 million times on YouTube and a host of pop culture sites and blogs, including Slate, Perez Hilton, Paper Magazine and more. His work has also been featured on MTV, VH1, Fox News and CNN. TV credits include appearances on "30 Rock," "Online Nation," "Nick Cannon: Short Circuitz," and "Saturday Night Live" where he currently works as an Associate Producer.
In his debut collection of candid, shocking and just plain hilarious essays, comedic artist and musician, Greg Scarnici recounts the period in his life when he was just starting to understand his sexuality and the city of New York that he calls home.
From getting high with the 'midget' from Twin Peaks to giving a trucker a lap dance to the tune of Pebbles' "Mercedes Boy", I Hope My Mother Doesn't Read This offers a snapshot of an artist coming to grips with his comedic artistry at a time when gay comedians were not as accepted as they are today. There are tales of sordid hook-ups, riotous soirees, narcotic mishaps, and an unforgettable encounter with Gina Gershon at a Saturday Night Live after-party, where Greg currently works as an Associate Producer.
No emotional stone is left unturned as Greg Scarnici gives readers an uncensored and uproariously funny look into every step of becoming, as legendary nightlife columnist Michael Musto calls him: "one of the funniest people in NYC – as well as one of its biggest freaks".
His 2010 book parody of Madonna's iconic "Sex" book, entitled "Sex In Drag" was his first foray in book publishing and was widely hailed as a comedy masterpiece.
Check out gregscarnici.com to see some of his work and to hear some of the music and videos he has released as himself, his drag alter ego, Levonia Jenkins, and his band, Undercover.
I Hope My Mother Doesn't Read This    by Greg Scarnici
Thought Catalog Digital and Paperback Original
On-sale date: September 22, 2015 • ISBN: 978-0692521472 •
Also available as an eBook
For updates on Greg's events and for more information, follow him on Twitter @ gregscarnici or on Facebook @ gregscarnici.