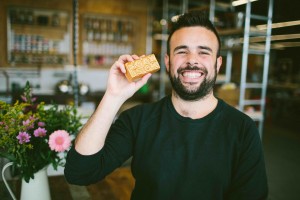 The Love Soap, printed with #GayIsOK, launched in Lush stores on 25th June 2015 and was sold until the end of July. Lush customers and All Out members took to social media to post "selfies" with their personal messages about why they support equality. Though around 80 Lush shops around the world were unable to participate due to anti-gay legislation, over 100,000 soaps were sold – raising £275,000 in profits for a 'Love Fund' that will be distributed as grants to grassroots groups across the world fighting for rights, equality and acceptance.
LGBT equality work, especially in the places where it is most needed, is massively underfunded. The 'Love Fund' wants to attract applications from groups working in areas where anti-LGBT laws are harsh and extreme and where funding is in short supply. It aims to reach out to any groups who are trying to bring the focus of society, governments and legislators onto this topic.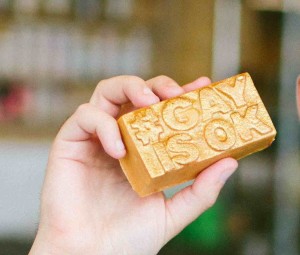 £50,000 will be donated outright to All Out for their worldwide campaigning efforts. The rest will go into a fund where LGBT groups can apply for grants of up to £10,000 that will be distributed later this year. A 'Love Fund' Panel is currently being assembled to look at all the applications from LGBT groups and allocate grants.
"Time and again we've seen how, with enough resources, activists do incredible work to change laws and shift hearts and minds towards full equality," said Andre Banks, Executive Director and co-founder of All Out, a global organization with over 2 million members. "Too often, activists are isolated and underfunded, but the #GayIsOK campaign has brought a massive new audience to their work and also crucial funds to help them succeed."
"A little sparkly soap goes a long way," said Alessandro Commisso from Lush (@alecommy). "Thousands of Lush customers, All Out members, VIPs and allies of the LGBT community told the world that #GayIsOK and made this an epic campaign! By purchasing the Love Soap they have given us their trust (and their money) to fund grassroots charities and continue to support LGBT rights as human rights, especially where life is not all glitter."
The timing of the #GayIsOK campaign from All Out and Lush coincided with the historic 1969 Stonewall riots in NYC which marked the start of the LGBT Rights movement. In just a few days, as a direct result of the campaign, over 30 million people were reached globally with messages of love and equality, denouncing that in 75 countries it's still a crime to be gay. An additional 40 million more adopted the hashtag after the US Supreme Court ruling on marriage equality came down 24 hours after the campaign launch.