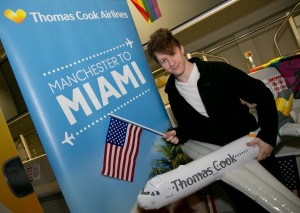 Last Friday, 21 year old Mancunian Jordan Mason jetted off for a glamourous weekend in Miami thanks to Manchester Pride.
As part of Superbia, Manchester Pride's new annual programme of cultural activities, on Thursday 20th August seventy partygoers boarded a tram from Chorlton to Manchester Airport whilst enjoying an exclusive moving gig.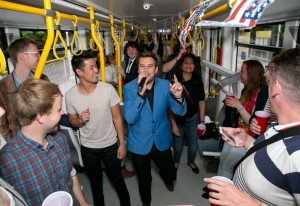 Compared by drag act Danny Beard, the audience were treated to performances from The Voice's Mitch Miller and pop legend and Celebrity Big Brother favourite Kavana. The sound track for the return journey was provided by Homoelectric DJ Jamie Bull.
On arrival at Manchester Airport Jordan's boarding pass was picked in a live draw and he managed to wing his way to sunny Miami.
Jordan commented; "I couldn't believe it when I heard my boarding pass number being called. I immediately got on the phone to get a friend to pack their bags so we could leave for Miami first thing in the morning. I can't wait. Thanks so much to Manchester Pride for a fantastic night."
Mark Fletcher, Chief Executive for Manchester Pride commented; "We constantly strive to create unique events that Manchester's LGBT community will love. Tram Trax USA was a brilliant evening and it was fantastic to see our guests singing along and dancing on the Manchester Pride Metrolink Sessions Special Service. Thanks to Mitch, Kavana, Jamie and the unforgettable Danny Beard for making it a journey to remember. Have a great weekend Jordan – just make sure you get back for the Big Weekend!"
Manchester Pride, Metrolink, Manchester Airport and Thomas Cook Airlines collaborated to present this unique event just a week before the launch of the Big Weekend.