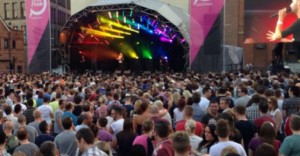 This year sees Manchester Pride commemorate the 25th anniversary of charity fundraising events celebrating lesbian, gay, bisexual and transgender (LGBT) life in Manchester City Centre and to celebrate the charity has rebranded its Big Weekend wristbands as Pledge Bands for the August bank holiday event.
With just a week to go until the Big Weekend Manchester Pride is reminding festival goers just what it means to be part of the UK's leading LGBT festival.
The much coveted Pledge Bands gain festival goers access to a variety of events across the weekend from the performances on the Main Stage Arena, Gaydio Dance Arena and Sackville Boutique Stage, also the EXPO, plus a number of offers and events at bars and restaurants within and outside of the site in Manchester's Gay Village. Also this year the festival site will boast a commemorative bring and buy sale and a mini fairground alongside the popular Village Markets which offer a great selection of gifts and memorabilia.
Most importantly Manchester Pride is asking the community to wear their bands with pride as they pledge to; help Manchester Pride create a safe, world class LGBT celebration, support Manchester Pride's devotion to raising essential funds for LGBT and HIV organisations in the North West and support the organisation's campaign for greater LGBT equality.
Mark Fletcher, Chief Executive for Manchester Pride, comments: "The Pledge Band is our way of bringing all of our supporters together to think about why The Big Weekend is such an important staple event in the LGBT calendar."
"By purchasing a pledge band our audience is not only gaining access to a world renowned LGBT festival, they're also making a clear statement that they support the event and the aims of our fund-raising charity. All whilst being eligible for free city centre travel on Metrolink and discounts at a number of retailers and restaurants across The City Centre."
"On top of all of this, the new design makes the Pledge Band a festival fashion must!"
Tickets for the Big Weekend are currently priced at £25 for a weekend ticket, £15 for day tickets and children's tickets are also available from £5.
A host of big names including Dannii Minogue, Texas, Union J and DJ Fresh will perform in Manchester during the Big Weekend. They will be joined by Lucy Spraggan, Atomic Kitten, the Shane Ritchie Band and many more.
Situated in the indoor arena, The Expo is a hugely popular community space which gives exhibitors the chance to showcase their organisation, spend face-to face time with visitors, promote goods or services and carry out consultations during the Big Weekend.
The Expo features community groups, public sector organisations and commercial businesses, and will be open Saturday – Monday, between 11am and 5pm.
The August Bank Holiday also sees the return of the vibrant Manchester Pride Parade, an integral part of the Manchester Pride Festival.
Tweet @ManchesterPride during the Big Weekend, using this year's hashtag, #BIGWEEKEND