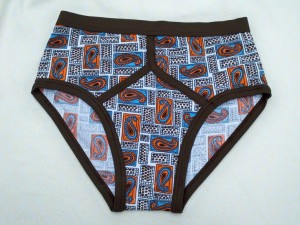 by Les Lea
     Paddy had bought a new pair of underpants. Well, I say new, in fact they were from a charity shop but I would guess they weren't second hand, just a batch from some 'seconds' factory or something similar.
As a penniless student he'd had to cut costs wherever he could and clothes, especially designer clothes, held no fascination for him. However, on his last visit to the Cancer Research charity shop (his favourite) he'd found a pair of white cotton boxer shorts and a pair of colourful nylon briefs for twenty pence each and thought they were a sound investment… especially as he knew the crappy state of his own underwear beneath his heavy, second-hand military, camouflage pants.
Back at the Hall of Residence his roommate had commented on his newly purchased briefs and told him they should be known as his 'pimping pants' because of their vivid design. When Paddy asked his roomy to explain he simply said that the lurid nylon pattern made him look like a 70's pimp he'd seen in an old 'blacksploitation' movie and jokingly suggested he should take on that persona every time he put them on.
Paddy laughed and looked in the mirror. His studently undernourished, pale hairless body looked back at him but he smiled at the thought of having his own pair of 'pimping' underwear… 'pimping' being a subject, up until that very moment, he'd never even given a moment's thought about. To say Paddy was a bit 'bookish' was an understatement. Since he'd arrived at University he'd hardly let himself fall into the hedonistic delights that the campus had to offer preferring to spend his time learning, revising and completing his course work but, as he looked at the reflection staring back at him, something sparked in his brain and at the same time his cock throbbed and spurted his juices straight into the nylon pants.
"Bloody hell," he thought, "no wonder pimps wear these if this is the effect" and immediately reached for his jeans to pull up over the sticky wet patch. He thought he needed to get out of the place fast before his roommate saw what had happened.
As he walked the dark streets around where he lived he couldn't believe the effect and the sensation that had just overwhelmed him. With his hands embedded deep in his pants pockets he could feel the damp, slime-filled briefs slicking his cock. It wasn't long before he was once more playing with his own monster dick (he felt that it had grown since he'd pulled on his nylon briefs) and that urged him to find more release.
In the toilet at the student bar he sat in one of the cubicles trying to decide whether to have a wank or not when the door burst open and a slightly inebriated first year stumbled in.
"Oh sorry dude," he said as he realised the stall was occupied but appeared to be in no urgency to leave.
Paddy just couldn't stop himself. Using his nylon briefs he continued to slowly wank his slippery cock to the total fascination of the young interloper.
"Wow man…" the slightly drunken lad exclaimed.
"Come in…. and close the door," Paddy ordered. "You definitely need something to suck on right now."