Stonewall takes pride in Manchester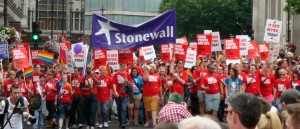 Britain's leading charity for lesbian, gay, bisexual and trans equality, Stonewall, will engage with Manchester Pride more this year than ever before.
This will include the group marching alongside Coronation Street in the Pride Parade on Saturday, alongside fellow supporters, local community groups and visiting international LGBT journalists.
Sir Ian McKellen, who co-founded Stonewall in 1989, will lead this year's Parade.
Stonewall will chair a free discussion event on Sunday 30 August, 'Proud in Manchester', supported by the University of Manchester and as part of Manchester Pride's 'Superbia'.
Joining the talk will be representatives from the Albert Kennedy Trust, LGBT Foundation and trans Pride event Sparkle, all of which are based or have a base in Manchester.
Manchester Pride will be supporting Stonewall's anti-bullying campaign NoBystanders over the weekend, both in its video format and by signing the pledge to not be bystanders to teasing and bullying language.
Celebrities who have supported the campaign include this year's headliner Dannii Minogue, who fronted Stonewall's original 'Some People Are Gay. Get Over It!' campaign.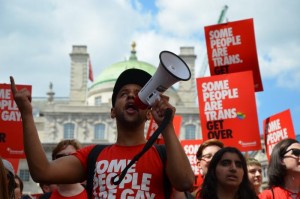 NoBystanders pledge posters will also be available for supporters to sign to show solidarity and join the movement at Stonewall's stall on Chorlton Street.
Stonewall is also being supported by PopCurious? and Bar Minogue, two club nights taking place across the weekend that are holding fundraisers on behalf of the organisation.
Matt Horwood, Communications Officer, Stonewall said: 'Manchester is an absolute beacon of equality for lesbian, gay, bisexual and trans equality, and has been for a long time.
'We can't wait to join the fabulous Coronation Street cast and crew in the Pride Parade this year, and to chair a discussion between the brilliant Albert Kennedy Trust, LGBT Foundation and Sparkle, with support from the University of Manchester's LGBT network 'ALLOUT'.
'We're thrilled that Manchester Pride is so visibly backing our NoBystanders campaign too, and we hope to see as many organisations, individuals and Big Weekend performers join the movement with us this Manchester Pride!
'Stonewall is committed to reaching out to all lesbian, gay, bisexual and trans people across Britain and finding out what issues are affecting them. We won't stop until all people, everywhere, are accepted without exception. And that's why this year we've attended as many Pride events as possible.'
Stonewall will also be live streaming activities throughout the weekend on Periscope, and posting updates via Twitter and Instagram, all on @StonewallUK.