Sauna – My First Time – Austria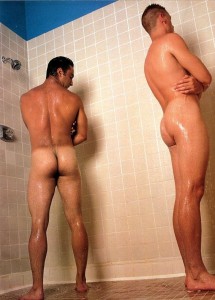 My first experience of a gay sauna was in Austria. It was about 10 years ago and the place was fantastic, over several floors, with nooks and crannies, dark-rooms and the usual assortment of showers, saunas and Jacuzzi's.
I was 25 at the time and although it was my first ever visit I was fairly confident about myself and had explored and enjoyed a few of the facilities (and people) on offer. Eventually, taking a break, I wandered into the TV area for a bit of a rest. There was only one other guy sat there watching some porn, he was quite hunky, had a great body and was just wrapped in a little towel. I nodded to him as I sat down next to him and he nodded back. After a few minutes of vaguely watching what was on the screen I noticed that his towel had 'dropped' open to reveal a thick and semi-hard dick.
To be honest, I was bloody impressed, he was a lot bigger than me and I noticed he'd noticed me looking. His smile told me I could explore further so got down on my knees, you know, just to check it out even more. It didn't take long to get it fully erect and he was more than a mouthful for me. He suggested we adjourn to a private side room where he pulled on a condom, theatrically lubed it up until it was shiny and slippery in the light, then lubed me up.
Fifteen or so minutes later he'd finished with me but I was still as hard as nails. Smiling at my still hard dick he wondered off leaving me like that. As I wondered out of the room a young, slim hunk caught sight of my excited state and pushed me back into the room, lubed himself up and insisted (without using any words I might add) I screw him. I was more than happy to plough his little butt for about half an hour. It was a pretty good introduction to the pleasures of gay saunas and I've used them all over the world thanks to that first and hectic first time.
Simon, Cambridge
If you'd like to share your first experience at a gay sauna, please send it to: editor@bent.com