JULIAN CLARY – THE BOLD AND THE BEAUTIFUL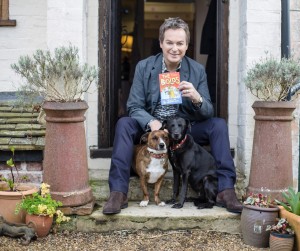 National treasure Julian Clary shares his joy at writing his debut children's book The Bolds.
"I always wanted to be a writer when I was a child," says Clary. "I think writing for children never occurred to me until my agent suggested it. It was a rather inspired idea because it's very much more fun than writing for adults." And that is how the flamboyant TV personality came about creating his debut children's book, 'The Bolds,' a collaboration between Clary and award winning illustrator David Roberts.
Mr and Mrs Bold are quite ordinary; they live with their two children in a very nice house in Teddington, they have jobs and are totally normal except for one thing: they are hyenas. The Bolds have until now lived quite a banal existence, keeping their long, spotted tails and manic laughs under wraps, but when a neighbour gets suspicious it leads to a wacky adventure unlike any other.
Clary admits his inspiration for 'The Bolds' came from directly his own childhood "Growing up, there was a family in our road who were all quite hairy… As a child I made up stories for myself that they were hyenas, and from there came from book."
This isn't Clary's first foray into writing; between 2005 and 2008 he wrote a fortnightly article for New Statesmen magazine, while also penning the two brilliant novels 'Murder Most Fab' and 'Devil in Disguise' and his touching and frank autobiography 'A Young Man's Passage'.
He explains how writing for children is a very different process to his precious endeavours. "You must contact your inner child, which we all have. My inner child as a comedian is quite present all the time so it's just flipping to thinking like a child and your imagination takes over, you can just go with the flow." Clary found it to be a creatively liberating experience: "With an adult book you'd think, 'well that's a little unbelievable,' whereas that doesn't apply with children's literature."
Prior to his work as an author, Clary began his comedy career on the 80s cabaret scene and credits his time at university for giving him the confidence to perform.
"I was doing cabaret with a girl who was on my course and in fact when we left university we carried on, that's how we got our Equity cards. Eventually she got an acting job so I started doing it on my own. I wouldn't have had the nerve to do it alone to start with!"
His outrageous stage shows soon earned him a sufficient fan following to make the jump from stage to screen and since the late 80s, Clary has been a staple of British television.
Rarely resting on his laurels, 2015 is set to be a busy year for the comic. After promoting 'The Bolds' he will go straight into preparing for pantomime season, where he will appear alongside Lee Mead and Marti Pellow in 'Aladdin' at the Birmingham Hippodrome. With all his TV and stand-up comedy success there must be something about pantomime that draws him back to the boards year after year?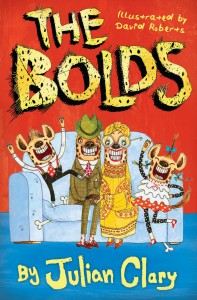 "What I love is being part of this big company with chorus girls and chorus boys and lavish costumes and proper production values. There's a different aspect to showbiz than from being on my own, normally as a stand-up you're on your own sitting in a dressing room whereas there's the whole theatrical life with panto. I find I don't mind entertaining children, they're very sweet so that's what I enjoy about it."
Julian Clary's The Bolds paperback is published by Andersen Press and is suitable for children 8+. Out now, RRP £6.99.
Julian will also be appearing at the inaugural Radio Times Festival taking place on The Green at Hampton Court Palace 24th-27th September.