Cazwell Wants You To Play "The Biscuit"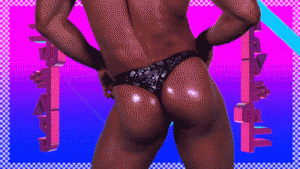 Do you fancy a morning (or anytime cum to think of it) watching guys in their sexy briefs wriggling and shaking their thing? You do? Well there's a surprise but we're here to help…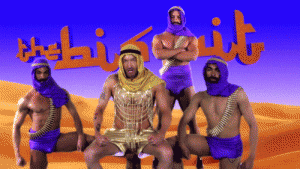 The eighth single from Cazwell's Hard 2 B Fresh album is a provocative, high-energy club banger whose name ironically enough has something in common with a popular sex party game. "The Biscuit" has all the catchy phrasing and suggestive lyrics we've come to expect from a Cazwell number, but with a unique instrumental not often found in hip-hop. It has a dash of Middle Eastern flair including a looped flute-like hook that resembles a traditional snake charmer's Pungi.
The beat is borrowed from "Ek Smaak Jou", a hit song originally released in South Africa by DJ Naaldekoker and produced by Justin DeNobrega (who works with popular South African rabble rousers Die Antwoord). "They were looking for a cool vocal to accompany the track and my management suggested I take a stab at it," says Cazwell. "Naaldekoker and DeNobrega loved what I handed in and the rest is history."   The Arab vibe extends into the song's music video, featuring Middle Eastern-inspired graphics and costumed go-go boys in headdress and thongs, shaking their biscuits. The exclusive video was produced in partnership with the gay dating app, Hornet. Cazwell's "The Biscuit" is available on iTunes and at all major online music retailers now.
"I believe that stepping out of your comfort zone is important", says Cazwell of his latest song and music video. "The production on this track is unlike anything I've done before, and the music video might potentially be controversial, but I was once told by the legendary Flawless Sabrina that 'If it doesn't scare you, don't do it.' Were the costumes and visuals inspired by another culture? Sure. But I made this decision to allow the video to be organic to the sound of the song and emphasize its uniqueness. Me and Athena Maroulis, the video's director, used the song's unique production as our primary inspiration for the video."
Cazwell believes fans will see the video for what it is: sexy, fun, funny and colourful – a perfect video for any lingering summertime sadness. "We created a vibrant landscape that juxtaposes Middle-Eastern imagery with graphics that have come to be associated with internet art movements like Vaporwave and Seapunk," he explains. "I'm almost always convinced I'm going to offend somebody with almost every video I drop. This one included, but it is never my goal. I remember before I dropped "Ice Cream Truck" (now over 9 million views on You Tube / VEVO), I was nervous. I was like, 'this is too gay, no one is gonna get my sense of humour!'"
Costume designer Matthew Hemesath created the custom Middle-Eastern Hip-Hop attire that Cazwell and his dancers wear in the video. Cazwell also wears pieces by designer Rik Villa.
Choreography in the video is by Julius Rubio. "Julius did an incredible job creating moves that stylistically complimented "The Biscuit" theme," says Cazwell.
Cazwell partnered with the gay app, Hornet, on the release of the video. "Me and the guys from Hornet have been talking about working together for a while," he reveals. "It was just about timing and finding the right project to work on.
The team at Hornet feel they found both in "The Biscuit".
"Cazwell entertains, breaks barriers, clashes stereotypes and for that, our users love him," says Sean Howell of the app. "Cazwell's music is about real life and current sexual culture and that mirrors the types of conversation we encourage."
Hornet is an online meeting spot for all guys, from twinks to daddies to gamer geeks. According to its founder, the app is more of a gay bar than a hook-up site, with 90% of conversations between guys getting to know each other.
"But boys will be boys," Howell continues. "For many of our users, they meet Mr. Right through a fetish or two and that is healthier than censoring our fantasies."
The Biscuit is a hazing game that involves a group of boys surrounding a biscuit. The last boy who ejaculates over the biscuit must eat the whole biscuit, semen and all.
And yes, Cazwell can be found on Hornet.