Travel – We are Family, especially in Torquay!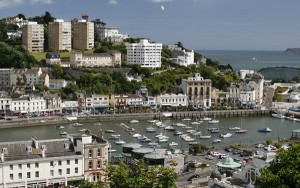 More and more gay families now include children – adopted, biological, maybe even from previous heterosexual relationships. So where better to take your little darlings, asks Adrian Gillan, than for a fun few days out by the seaside in lovely Torquay? Maybe even for Riviera Pride (12 Sept 2015)!
Torquay is a fab gay place; and a fab place for kids. So, if that ticks both your boxes, where better?
Aptly known as "The Queen of The English Riviera" and thus especially popular with gay visitors, Torquay is the largest town in wider Torbay, South Devon's beautiful bay (a.k.a. 'Torgay') – 22 miles of stunning coast, palm-clad cliffs, coves, harbours and sandy beaches, all warmed by sub-tropical winds, taking in Babbacombe to the east, and Paignton and then Brixham to the south west.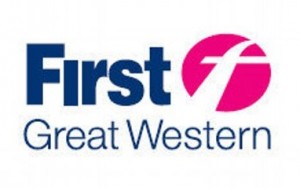 And this whole Torbay idyll is as little as 2¾ hours from London Paddington by wonderful First Great Western, even closer from other parts of England and Wales! Pay half fare for children aged 5 – 15, and take up to two children under five free of charge!
Torquay's resident population of about 65,000 comprises half of that of the whole of Torbay whose economy has evolved from farming and fishing – plus the odd bit of smuggling in days gone by – to being a fashionable health resort and – nowadays, and really ever since more easily reached by railway – a broader tourist destination. Author Agatha Christie was born, and lived much of her life, here.
STAY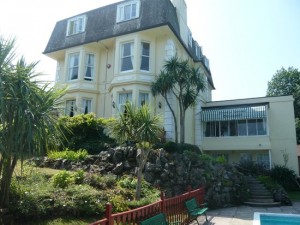 Stay at amazing AA-4-star guest house, The Elmington (St. Agnes Lane, Torquay TQ2 6QE; T: 01803 605192;), situated conveniently close to both Torquay railway station and to the seafront, and a mere 15 minute stroll to Torquay's harbour, marina and town centre. Originally built as a fine residence amidst a parkland estate, the hotel still retains all its old charm whilst also benefiting from a thorough recent refurbishment, so it thus now combines 21st Century amenities with 19th Century grandeur! There are lots of fun, quirky objects dotted around the interior that kids will find of interest – from exotic plants and vases to crazy Buddhas and wind-chimes! It has 19 bright and spacious rooms, with high ceilings, many boasting either sea or parkland views, and all with comfy beds, digital TV and tea/coffee-making facilities.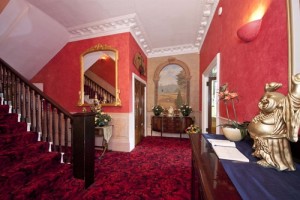 Enjoy a hearty breakfast in the light and airy dining room which offers views right down to the sparkling waters of the bay. Take a stroll around the pleasant gardens; or even a refreshing dip in, or nap by, the alluring swimming pool found there. Relax with a drink or book in the comfy and sizeable lounge-bar area, or on the roomy sun-deck, all overlooking the gardens. Or have a nice chat with big-hearted host Liza – normally easily enough located on account of her frequent and delightfully infectious laughter! Other big pluses include plenty of free on-site parking, heaps of handy leaflets on local information, and free Wi-Fi throughout. Hugely gay- and child-friendly too! A Torquay treasure! An absolute find!
EAT
Young'ns will love popular, colourful, vibrant, long-established Jingles (34-36 Torwood Street, Torquay; T: 01803 293340;) for superb Tex-Mex and 'global food' in a fun atmosphere, slap-bang in the heart of Torquay, just back from the harbour. Open daily for evening meals from 6pm, it serves dishes from around the world – from America to Asia and from Mexico to the Med. You can taste the zest and passion of its kitchen! It really is 'The New World on a Plate' so there's something for everyone – with a truly vast menu and generous portions to match. Kid's even have their own menu! Dad might even treat himself to the odd Margarita! For couples, parties, families: great!
TOP TEN THINGS TO DO WITH CHILDREN IN TORBAY
The best thing about Torquay and wider Torbay is that you can access many of its natural assets for absolutely free! Drift and float around Torquay's picturesque harbour, amidst bobbing yachts and boats; picnic in the ornate Princess Gardens; love the coastal walks and beautiful sandy beaches along the adjoining coast. Some additional highlights for your kid or kids:
Living Coasts, Torquay Coastal Zoo and Aquarium – all-weather attraction on Torquay's seafront where one can mingle with the playful penguins, get up close to the otters, octopuses and seals, and much more. Below decks, enjoy panoramic underwater viewing!
Kayaking in Anstey's Cove – nestled between Babbacombe and Torquay, amidst limestone cliffs and lush green hillsides, Anstey's Cove is an idyllic natural sheltered harbour and sun trap, brimming with sea life, boasting spectacular views across Lyme Bay to the Dorset Coastline. A tandem kayak is perfect for the nipper – just put 'em up front, sit back and… watch 'em go!
Kents Cavern Prehistoric Caves – just a short stroll from Anstey's Cove lies one of the most significant Stone Age cave sites in Europe, and arguably Britain's most important prehistoric cave. For thousands of years, ancient humans used this extensive labyrinth of caverns to shelter from extreme weather, make fires, shape stone tools and hunt Ice Age predators. Stunning stalactite and stalagmite formations too! Guided tours. Fab café, gardens and shop 'n all!
South West Coastal Path – miles of cliff-top walks above crashing waves all around Torbay. Invigorating – and free!
Steam train and passenger ferry from Paignton to Dartmouth – take the Dartmouth Steam Railway from Queens Park Station, Paignton to Kingswear, through the countryside of South Devon and along the coastline of the English Riviera, on a stretch of line that Agatha Christie herself would have taken out of London Paddington. At Kingswear, take the passenger ferry (run by the same company as the steam railway and included in a combined ticket) across the River Dart to the beautiful riverside town of Dartmouth for a look around before returning, by the same ferry and train, to Paignton. Choo choo! What a glorious sight and sound from a bygone age! All aboard!
Greenway, Agatha Christie's family home – once in Dartmouth you can choose to extend your day by a trip up the river to look around this fascinating National Trust property. Board Greenway Ferry's Christie Belle, departing from Town Quay, Dartmouth for a trip up the River Dart to Greenway Quay, near which you'll see the Greenway boathouse, location for a murder in Dead Man's Folly. Once at Greenway, the former home of author Agatha Christie and her family, enjoy a light lunch in its delightful Barn Gallery Café. Take a self-guided tour around this relaxed and atmospheric house, still set in the 1950s, containing many of the family's collections of silver, china and books. Enjoy the large woodland garden which drifts down the hillside towards the Dart estuary. Don't miss the boathouse, or pet cemetery. Return to Dartmouth on the Christie Belle, before your return, by the same ferry and train combo, to Paignton. For other ways to reach Greenway, see its National Trust website.
Palace Theatre, Paignton – cute little theatre, especially famous for its summer-long mid-week-eves amateur Agatha Christie season from Bijou Theatre Productions. Summer 2015 is The Hollow – an intriguing play full of the usual 'twists and turns', 'red herrings' and multiple suspects traditionally expected from Torbay's very own "Queen of Crime". Other local theatres in Torbay include to The Princess Theatre (Torquay), The Little Theatre (Torquay) and Babbacombe Theatre (Babbacombe).
Passenger Ferry from Torquay to Brixham – the 35-minute ferry ride across the Bay from Torquay to Brixham, and returning to Torquay, is a stress-free delightful way to view Torbay from the sea, especially when the sun is shining! Perfect for dolphin watching!
Smugglers & Pirates Experience, Brixham – join Jack Rattenbury and his gang of infamous smugglers and pirates on a thrilling adventure more than 200 years back in time, to experience the incredible real-life tales of smuggling, piracy and suchlike. Jack and his crew help you escape the customs men and brave storm-tossed seas to smuggle ashore your haul of contraband! Weather the Great Gale of Brixham and learn of the many West Country pirates down the ages, from the surprisingly gentlemanly… to the outright villainous! The kids will love this, not to mention its shop, plus a nice lunch in its excellent 'Smugglers' Retreat' eatery, boasting views right out over the heart of Brixham harbour – and a stash of fine local beers!
Golden Hind, Brixham Harbour – full-sized replica of Sir Francis Drake's round-the-globe boat, one of the most iconic ships from the age of exploration. Brought to life by scarily realistic, yet strangely friendly, pirates! Open come rain or shine with many indoor displays as well as wide-open decks!
RIVIERA PRIDE: SAT 12 SEPT 2015 Of course, you're unlikely to sneak your sprog past the bouncers at the clubs, and – even where its licence permits it – a pub can be a bit of a bore in a child's bigger scheme!You might breeze briefly into the friendly and attitude-free Meadfoot Inn (7 Meadfoot Lane;) just above the harbour parade for a quick lemonade or juice. But you'd certainly steer well clear of the Steamer Quay Spa or adult-only Key West resort!That said, all ages love a party! And, one of the best community Pride Festivals in the UK, this year's Riviera Pride centres around Saturday 12 September 2015!

USEFUL INFO

The Torbay Cab Company is great for getting you around the bay area: 01803 292292
Torquay is as little as 2¾ hours from London Paddington, and even closer from other parts of England and Wales, by fabulous First Great Western