The Edinburgh Fringe includes over 50 LGBT themed shows.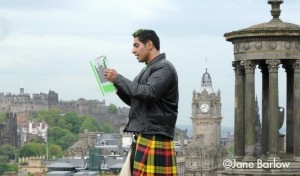 The Edinburgh Festival Fringe is back with an innovative, international and adventurous festival, bound to provide many unforgettable moments for festival goers travelling to Scotland's capital city from all around the world. With theatre, dance, circus, physical theatre, comedy, music, musicals, opera, cabaret and variety, children's shows, free shows, exhibitions, events and spoken word on offer, there truly is something for everyone. And something new for everyone to experience.
Over 50 shows themed under LGBT will take place, with a number of new works specifically based around gender and sexuality taking part in this year's Fringe. Trans Scripts (Pleasance, p.378) created from actual interviews will explore gender identity through the struggles and triumphs of six transgender women. The Gospel According to Jesus, Queen of Heaven (Summerhall, p.330) is written and performed by trans playwright, performer and poet Jo Clifford. Bread is shared, wine is drank and familiar stories are reimagined by a transgender Jesus. The Traverse Theatre will present the world premiere of Swallow (Traverse, p.371), a new play by Stef Smith which takes a long, hard look at the extremes of modern life with questions of identity, heartbreak and hope.
From the Czech Republic Boys Who Like to Play With Dolls (DanceBase, p.187) is contemporary dance show set in a world in which masculinity and femininity are unrelated to male and female forms, attacking conventions and clichés of gender.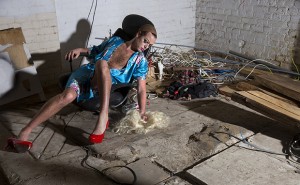 I Am Not Myself These Days (Pleasance p.336) is a new writing contemporary theatre piece by Fuel, adapted from the bestselling memoir. The one-man show recounts a time when Josh worked as a drag queen, battled alcoholism and loved a crack-addicted rent boy.
By the Bi (Spotlites, p.187) uses a unique cohesion of modern dance, physicalised movement and spoken word, and unpacks how society's isolation of bisexual culture perpetuates harmful and hurtful stereotypes of bisexuality that include confusion, greediness and promiscuity. The International Stud (C venues, p.337) is an award-winning play which follows drag queen Arthur on his search for love in the backrooms of the 1980s gay scene. These Troubled Times (C venues, p.374) is a comedic and irreverent exploration of homophobia, religion and the meaning of family. How to Keep an Alien (p.334) will make its debut at the Traverse. Based on a true story, Irish Sonya meets Australian Kate and they fall in love, just weeks before Kate's visa is up and she must leave Ireland. Together they have to find a way to prove to the Department of Immigration that they have the right to live together. Sex, Hugs and Gender Roles: A Panel Show About Sexuality (Laughing Horse @ The White Horse, p.162) is a free, unique stand-up panel show exploring relationships with sex, sexuality and culture.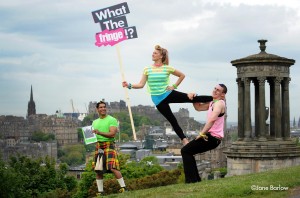 Cabaret and Variety makes up for 4% of this year's programme, with 120 shows. Aussie cabaret sensation Amelia Ryan performs in her multi award-winning cabaret show A Storm in a D Cup (Assembly, p.22) about her gay father, transgender step-mother and failed career as an exotic dancer. Margaret Thatcher Queen of Soho (Assembly, p.134) returns after a sell-out 2014 and sees Maggie in a drag comedy cabaret extravaganza about gay rights, the 80s and disco. The Night Shift with Gloria Hole (theSpace, p.20) sees the loud, crude and primarily drunk Gloria Hole question what on earth an ageing drag queen does when it's time to hang up her heels.
Fringe Facts 2015
The Edinburgh Festival Fringe 2015 features 50,459 performances (up from 49,497 last year) of 3,314 shows (up from 3,193 shows last year) in 313 venues (up from 299 venues last year).
Comedy makes up 34% (compared to 34.5% last year)
Theatre makes up 27% (compared to 27.5% last year)
Music makes up 14% (compared to 13.1% last year)
Musicals and Opera makes up 3% (compared to 3.4% last year)
Children's Shows make up 5% (compared to 5% last year)
Dance, Circus and Physical Theatre makes up 4% (compared to 3.6% last year)
Events make up 4% (compared to 4.3% last year)
Cabaret and Variety makes up 4% (compared to 3.2% last year)
Spoken Word makes up 4% (compared to 3.9% last year)
Exhibitions make up 2% (compared to 1.6% last year)
There are 807 free shows, 1,778 premieres and 49 different countries represented.