Teens hanged in Iran remembered at London vigil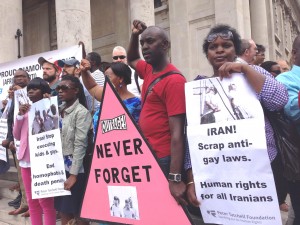 Photos: Peter Tatchell Foundation
     To mark the tenth anniversary of Iran's hanging of two teenagers, Mahmoud Asgari and Ayaz Marhoni, the Peter Tatchell Foundation and the African LGBTI Out and Proud Diamond Group held a memorial vigil in London on 19 July to remember the two youths who were publicly hanged by agonising slow strangulation in the city of Mashhad on 19 July 2005 – and to show our support for the freedom struggle of LGBTI Iranians.
"Asgari and Marhoni were found guilty of male rape after an unfair trial. LGBTI campaigners inside Iran doubt the rape allegations and believe they were probably hanged because they had gay sex. International human rights organisations like Amnesty International and Human Rights Watch have often accused the Tehran regime of hanging people on flimsy evidence and on trumped up charges. Scepticism concerning the allegations against the teens is justified," said protest coordinator Peter Tatchell, Director of the Peter Tatchell Foundation.
The disputed and flawed evidence against Asgari and Marhoni follows below.
"On 19 July, we stand for life, liberty and love. Mahmoud and Ayaz were minors when they were sentenced to die. I remember the photos of their tears in the police van as they were driven to the gallows. It was a heart-breaking sight. This vigil is our attempt to make sure their state-sponsored murder is not forgotten and to stand in solidarity with LGBTI people in Iran.
"Iran's penal code makes no distinction between consenting homosexuality and male rape. Both are punishable by execution. Regardless of the youth's guilt or innocence, the death penalty is a violation of human rights and should be abolished.
"We also remember the many other victims of Tehran's tyranny: students, political dissidents, women, trade unionists, human rights defenders and religious and ethnic minorities.
"The nuclear deal with Iran is welcome. But what about human rights for the Iranian people?" he queried.
Edwin Sesange, the coordinator of the Out and Proud Diamond Group, who attended and spoke at the vigil, added:
"We support freedom and equality for LGBTI Iranians. They suffer grave persecution. Iran has the death penalty for homosexuality. Our hearts go out to the family and friends of the executed. Whatever the truth about the allegations against Mahmoud and Ayaz, hanging is barbaric. They should not have suffered this cruel death. We urge the abolition of the death penalty in Iran and every country."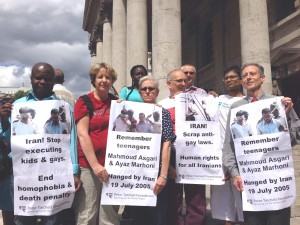 The key demand of the London of the vigil was:
"Iran: Stop killing gays! Stop killing children! End the death penalty!"
We urged:
End all executions in Iran, especially the execution of minors.
Stop the arrest, torture and imprisonment of Iranian lesbian, gay, bisexual, transgender and intersex people (LGBTI) and repeal the Iranian penal code's criminalisation of same-sex relationships.
Halt the deportation to Iran of LGBTI asylum seekers and other victims of Tehran's persecution who have sought refuge in the UK and other countries.
Support all Iranians struggling for democracy, social justice and human rights.
Oppose foreign military intervention in Iran. Regime change must come from within – by and for the Iranian people themselves.
Reject generalised sanctions that cause suffering to ordinary Iranian people. Support only sanctions that target the ruling elite and human rights abusers.
"The Iranian regime's allegations against the two hanged youths, Mahmoud Asgari and Ayaz Marhoni, are riddled with contradictions, implausibilities and outright lies, which show that the official account cannot be relied upon," reports Peter Tatchell.
"At first it was claimed by Iranian officials that they were aged 18 and 19, then that they were 19 and 21, then aged 18 and 20, and finally they made the claim that they were both above 18 at the time of their alleged crimes.
"However, the strongest evidence is that both youths were aged around 17 when they were executed and therefore minors, aged 15 or 16, at the time of their alleged crimes. The execution of minors is in breach of international human rights agreements the Tehran regime has signed.
"The method of hanging was specifically designed to cause a prolonged, painful death by strangulation.
"Concerning their crimes: initially it was claimed that they committed one rape and were child molesters, then that they had committed several rapes. By the autumn of 2005, supporters of the rulers in Tehran were spreading rumours that they were serial child killers.
"Some LGBTI activists inside Iran believe that Mahmoud and Ayaz were probably gay or had had consensual sex with other boys. They dispute the regime's claim that they were rapists or child abusers. They say the teens never had a fair trial.
"Mahmoud and Ayaz were accused of raping a 13 year old boy. Whether this is true is a matter of dispute. It is possible, although not an established fact, that when he was arrested the 13 year old, in order to avoid being executed, claimed he was raped and that his father backed up his claim to the police. Any father would do this, in order to save his son from the hangman and to avoid his family becoming social pariahs for having a gay child.
"Informants inside Iran have said the teens were of good character and that they came from decent, law-abiding families whose fathers had good jobs.
"The execution of Mahmoud and Ayaz conforms to a pattern of state persecution of LGBTI people by the homophobic Iranian clerical authorities.
"In publicised executions of gay people, the men are often accused of the kidnap and rape of a younger male. While such claims are not necessarily untrue, they need to be treated with caution and scepticism, as they tend to follow a suspiciously stereotypical formula and such trials are often not free or fair.
"By instituting charges of kidnap and rape, the Iranian authorities apparently hope to discredit the executed, discourage public protests and deflect international condemnation. They calculate that there will be little Iranian or international sympathy for people hanged for crimes like abduction and sexual assault," said Mr Tatchell.