London Pride: A personal view from the parade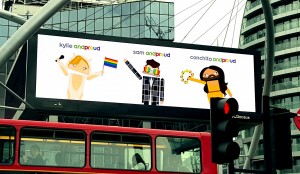 With Pride events around the world now in full swing there has been a lot of comment about whether they are still relevant. Bent's Terry Gee gives us his own personal take on what these celebrations mean to him.
I'm gay. I came out to myself at 12, my school friends at 13 and to my parents at 16. I have never hidden my sexual preference from anyone as I have always known it was never a choice. I am happy with who I am and proud to be a gay man.
I always attend my local Pride events be it in Yorkshire or now London. I feel it is important to show your support for campaigners, charities and those coming to terms with their sexuality. I haven't been in a Pride march for many years, but this year I felt I needed to. We have made such huge progress here in the UK for equal rights, the US has just declared gay marriage in every state and it feels like the world is finally recognising that we are all the same. Eighteen countries now recognise same-sex marriage which is amazing, but there are 196 countries in the world meaning that 178 countries do not recognise same-sex marriage; and of those, it is illegal to be gay in 76 countries with 10 still upholding the death penalty. It is easy for us in Europe or the Americas to sometimes grasp that the freedom and rights we have is not available to most of our world. That is why I marched in this year's London Pride.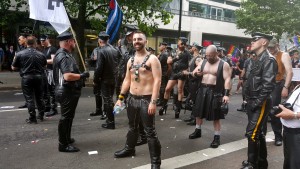 Being an active member of the fetish scene, I have a lot of friends in the leather community and so marched with BLUF (Breeches and Leather Uniform Fanclub). Arriving at midday, the vibe was incredible. Marching groups were congregating on Baker Street with hundreds of people milling around, taking pictures and clapping along with the music provided by a float behind us. Our group were getting a lot of attention as men dressed head to toe in leather usually do. I had been sensible and not gone for the full leather ensemble which proved to be a good choice as it was a particularly hot, summer's day. We were stood waiting for three hours in the scorching sun, but no one complained. The positive vibes and warm feelings kept us all happy and motivated.
Shortly after 3pm, our little band set off. There were many people lining the streets as we moved in an orderly procession, but when we hit Oxford Street I was amazed at just how many people had turned out for the parade. Every inch of the pavements were taken up with people cheering and clapping. As I walked past a group of teenagers, a girl grabbed my arm and said thank you with so much sincerity it made me well up. People holding banners celebrating gay marriage, equality and diversity were scattered everywhere. There was no hate, no sour faces, just happiness and love everywhere I looked. I saw a father holding up a young boy so that he could see over the heads of people, a small Asian family clapping along and people of all races and sexes there to celebrate and support along with us. People hugged me, kissed me, shook my hands and wolf whistled. But the people who brought a lump to my throat were the ones who just stood staring at me smiling and clapping and a few who mouthed 'thank you'. I have had to fight for who I am my whole life. Being bullied, taunted and ridiculed for something I can never change; standing up for myself and those around me just so I can gain a place in society with everyone else. It's not easy being gay and some days it just feels like there is no point even trying. So to be surrounded by hundreds of thousands of people who accept me for who I am was humbling, gratifying and emotional.
Oxford Street had been busy, but that was nothing compared to Piccadilly Circus. When we rounded the corner I was overwhelmed by the amount of people. Crowds of people had swamped the area and there were people as far as the eye could see. I felt like the star of a Hollywood blockbuster walking down the red carpet. I was even grabbed by a group of girls and took a selfie with them. The mood was invigorating.
When the parade finished I felt supercharged with energy and positivity. The LGBT community have achieved so much in my lifetime and it gives me hope that equal rights is for the rest of the world in the coming decades. The more gay pride events we have, the more open we are about our sexuality and the more we push for universal equal rights, the more people will see, hear and understand us. We are not a different species, we are not second class citizens, we are all the same and one day –soon – we will all be seen as such.
Enjoy your Pride.