Film Review – "Mission: Impossible – Rogue Nation"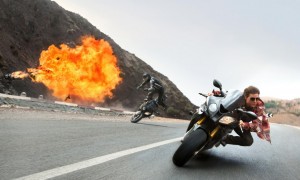 by Chris Amos
     Tom Cruise is back as Ethan Hunt, facing his most blisteringly impossible mission yet, in "Mission: Impossible – Rogue Nation," the fifth instalment in the constantly accelerating action-thriller series.
Despite people misgivings of The Cruise, he manages to keep himself relevant; he is the Madonna on Hollywood. Once again he throws off gay suspicions and epitomises all things masculine in an action movie. This follows a resurgence in the popularity of stunt work shot on film in a day and age where special effects has taken over the cinema, thanks largely to films like Fast & Furious series and China becoming the second biggest film market in the world now.
The deep-cover espionage agency known as the IMF has been under fire, but now it faces total disbandment, even as the most harrowing threat yet known to the free world lies in the shadows. That threat is The Syndicate, an impenetrable, exquisitely-trained group of renegade spies who have left behind their countries for an agenda all their own – an agenda intent on destabilizing the very foundations of civilization. The Syndicate has long been rumoured to be just a wild-eyed myth among spies. But Ethan Hunt has just uncovered the unwelcome reality that this rogue nation is not only real but a ticking time bomb about to detonate worldwide if he doesn't act. The CIA doesn't buy it. His own team is under threat. Yet, Ethan will never turn his back on the highest stakes.
Reteaming with Cruise as Hunt's fellow agents are Jeremy Renner as William Brandt, Simon Pegg as whiz-kid Benji and Ving Rhames as Luther Stickell. Joining the action anew are Swedish actress Rebecca Ferguson ("Hercules") as the mysterious Ilsa Faust; Sean Harris ("Prometheus") as Solomon Lane and three-time Golden Globe winner Alec Baldwin as CIA Director Alan Hunley.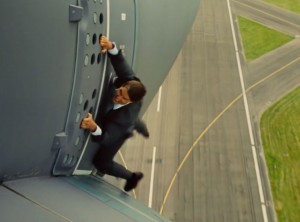 The film has many edge of your seat stunt pieces most memorably impossible motorbike chases and an impossible break-in to the world's most secure facility which happens to be underwater and will detonate metal making underwater air tanks not an option. Much of the film takes place in London which adds a certain amount of excitement. Worth the trip to cinema. On a final note, there is a kind of romance at play here but curiously Ethan Hunt never goes in for the kiss… makes you wonder.