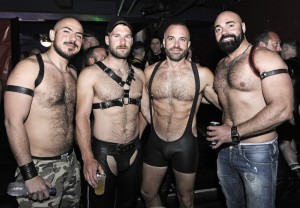 By Terry Gee
Fifteen years ago, Phillip Hamill wanted to meet guys online who shared his sexual interests. With the internet still in its infancy, he took it upon himself to set up a small dating site called Britskins. A few weeks later, wanting to broaden the scope, he changed this to Worldskins. Thousands of people joined the site and in 2004 the name was changed to Recon to accommodate everyone's fetish. Today, Recon is the largest and most successful gay fetish website in the world.
Recon has been holding parties all over the world for years and in 2010, launched a whole week of fetish events in London. Five years later, Fetish Week attracts guys from all over the world every July.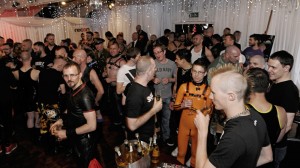 Bent Magazine attended most of the parties. Kicking off the week was the exclusive Opening and Fifteenth Birthday Party on the HSM President. Champagne and cakes flowed freely as men dressed in a fantastic array of outfits mingled and socialised. It was a great way to start the week and meet up with friends old and new.
On Wednesday, we attended the Charing Cross Gallery for Fetish on Display. You can read the interview with photographer Matt Spike here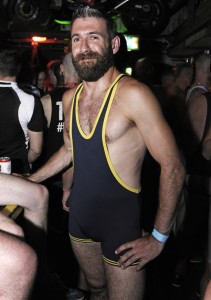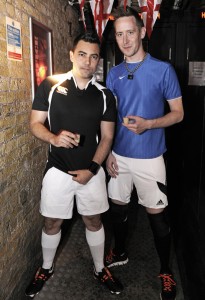 The big weekend of events started on Thursday with the Sports Cruise party. Held at the Hoist in Vauxhall, hundreds of men attended wearing wrestling suits, shorts, jocks and even a few guys dressed as boxers were spotted. The Hoist is one of the oldest fetish venues in the country and is perfectly designed for fun. Lots of dark spaces, slings, cages and mazes make up the south London club. As always, the highest concentration of people was around the bar; drinking, socialising and cruising as a steady flow of men flooded in. As there were still many events still to come, we only stayed for a few hours, leaving behind a lot of happy people to carry on the night without us.
Live from Madrid, Into the Tank took over Fire on Friday, inviting people to enjoy the Spanish vibe in the infamous London club. With a huge dancefloor and packed dark room, this gave everyone a feel of what was to come the following night.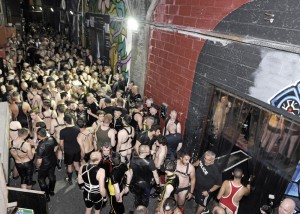 Over 1000 men attended the main party on Saturday. Held at The Coronet, Full Fetish has become the party to be seen at. Every fetish you could think of was covered. Rubber outfits in all colours, leather men, army and swat gear, human pups being held by their handlers, sports gear, cowboys and someone wearing a skull mask that reminded us of Skeletor. (Not sure if that's what he was going for though!) As we walked in, iconic recon images were being recreated as a live instillation on a rotating disk. Two models posed in the same gear as in their picture to welcome us in. The fetish scene should be fun and spark the imagination and this hit the brief perfectly. On the dancefloor, the music was pumping out dirty beats as guys gyrated with each other. Above the dancefloor was a play pen especially designed for pups and their handlers. As tempting as the ball pool was, we resisted the urge to dive in and left the pups to their playtime.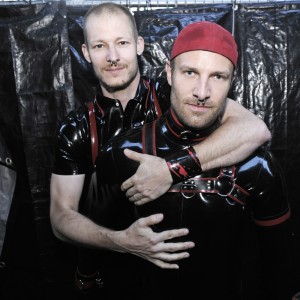 Luckily, The Coronet has a huge outside area, perfect for a warm summer night. From here we could access the four themed rooms which ran along the back of the club. Each room held a collection of items to tantalise every fetishist; crosses, benches, slings and even a pool. Basically enough to put even the best dungeon to shame! As the night progressed, these rooms became very popular and no piece of equipment went unused.
Six hours passed far too quickly and we left a still busy club to head home. With two more parties to attend on Sunday, we needed to get some beauty sleep before slipping into our rubber outfits.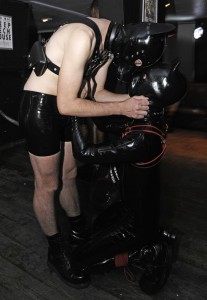 We arrived to an already heaving Club Union at around 8pm on Sunday and were enveloped by the smell of latex as soon as we walked through the door. Every rubber outfit you could imagine was there, in all shapes, styles and sizes. Human pups strolled passes us at the bar and further into the club were crowds of people laughing, talking and getting it on. As much as we love wearing rubber, it can get hot very quickly. Luckily, there was a dedicated outside area for us to cool down in and chat with the other guys there.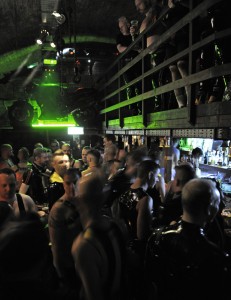 After a slick few hours with the rubber men (and pups), it was time to head to the closing party, Deconstruction. It was actually a rather sad feeling walking over to The Hoist for the final time. The week had gone so fast and so many amazing memories had been made, it was upsetting to think that it would soon all be over.
We arrived as the doors opened but The Hoist quickly filled up and the last party of Fetish Week began. Old friends and people we had met throughout the week were there and shared stories of their adventures at the different parties. The main consensus was how well-organised the events had all been. Queues and cloakrooms were usually on the top of everyone's gripe list, but this year they were being praised. It was a very social and upbeat gathering. Leather, military and sports guys attended and a lot of people filtered in from the rubber party down the road, without changing first of course! It was great to see so many come out and make such an effort. After a few beers, we wandered into the maze where people were looking for that final fling of the week. The air was thick with testosterone of the smell of sex. It was intoxicating. We left the club at 2am feeling happy and looking forward to next year's Fetish Week London.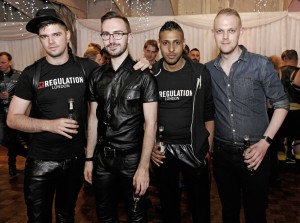 To an outsider looking in, the fetish scene can sometimes seem strange; but when you're surrounded by guys who are all into the same thing as you, it quickly becomes the norm. This is why fetish events are important. It gives us a place to be where we don't have to feel like an outcast and can be around people who share the same interests. It's not all about sex; the fetish scene is social, fun and accepting. Thank you recon for a fantastic run of events and long may Fetish Week last!