Fetish on Display: A chat with fetish photographer Matt Spike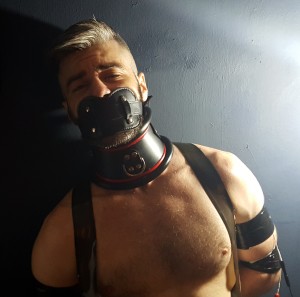 By Terry Gee
Matt Spike is a leading fetish photographer. As part of Fetish Week's Fetish on Display, he treated the gallery patrons to a unique art instillation; a man in bondage being shocked with electrodes.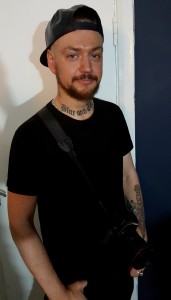 Where did the dark and raw theme come from?
I try always to include something in my work that contains a degree of "poison". It takes a good deal more than it used to introduce dark themes, and fetish art these days has become a little soft. I would like to create work that challenges, and perhaps even frightens because the reality is that there is some very dangerous sex happening out there, and I want to simply reflect that like I did in my chem-sex exhibition last year.
Do you draw upon your own experiences?
Yes, quite often I am drawing upon my own experiences. During my busiest escorting years, I did many paid WebCam shows. Sometimes I would do these in bed with a leather jacket on, and the quilt pulled up to my waist. The person on the other end would see what they thought was a leather man in a dark room, but the parameters of the camera vision meant that they couldn't see I was actually in bed. I was intrigued by many stories and articles I had read about online BDSM relationships and I began to ask myself exactly how much people know about each other if they are conducting these relationships via WebCam. Maybe they do know each other quite well, but maybe they don't and how real the image is that you see on your screen? Perhaps it is real, perhaps the person at the other end is your fantasy, but then maybe if you met them they might not be. How can you put your trust in this person? Maybe you want to lose your trust in this person.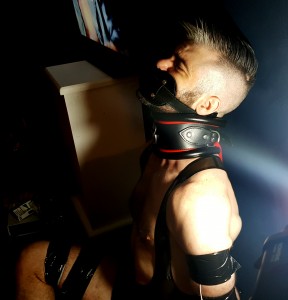 As part of your instillation, Patrick was the guy tied up and being shocked. Was he in pain?
Patrick was not in pain. I doubt very much if the experience was physically comfortable for him, but then again is any performing role physically comfortable? He assured me he was a fan of electro, and we set the device to a level that was comfortable with him. As an experienced user of Estim, he probably could take quite a lot more than your average person, and enjoyed it.
Was it well received?
I think that the installation was well received; from what I heard, people appreciated being able to look at something for longer than a few seconds. That is the main problem I have with the gallery format. I have been to so many gallery openings where people stand around drinking wine and socialising with their backs turned to the artwork. It's just another excuse to get a free drink. So I think people really appreciated the opportunity to stand and watch something that was not a sex show, and not a still piece of art, not cabaret, but something encompassing all of those things with a deeper message.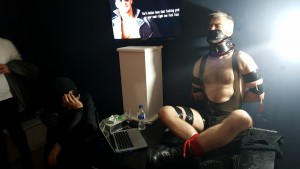 When did you start photography?
It's hard to say when I started to photograph. Both my grandmothers were photographers, and one of them in addition to the photograph thing, used to retouch photographic negatives. It's probably during my childhood that I started to take pictures and not just "snaps". It was when my years as a full-time escort began to end, and I wanted to search for something artistic to do, that's when I found my direction as a fetish photography. So we are probably talking around 2010.
What inspires you?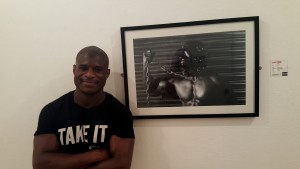 I'm inspired by a desire to rebel against formality. Many people seem to think that there is nothing left to shock us. They are wrong. The world is in fact becoming a much more puritan place, and people are finding it increasingly difficult to express dark humour or feelings. Someone needs to say the unsayable, and that is what I tried to say in my work.