Bent USA – "Do it like Miley"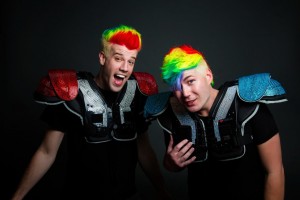 In Sassy Summer Sounds, dance punk duo Caleb Raux and Brian Raux, better known as Team HeartBreak, present six filthy new dance tracks with booming beats, clever lyrics and catchy melodies that will make fans wanna sing along and shake their asses to.
The album includes "U dope", a song with notes so high it sounds like dolphins mating; "So good", a track that started from a bunch of chopped up a cappella sounds that the boys whipped up into a song in the studio; "Boys Just Wanna Have Fun", a really sexy, 80's inspired number; and "Without Me", a power balled about the desire to feel important and irreplaceable in someone else's life. The album's first single release, "Do iT Like Miley", pays homage to the music and style of Miley Cyrus. The song's intro lyrics are a clever nod to Miley's biggest hits. "People try and act like Miley's out of control," says Brian, "but she's out there making killer music, raising awareness for charity and changing the world, all while being herself and having fun. Sounds like a role model to us."
"The message in 'Do iT Like Miley' is: who cares what other people think of you," says Caleb from the home he shares with Brian in Los Angeles. "Their opinions don't matter. The key to happiness is forgetting your insecurities and loving who you are. Just be you no matter what."
https://www.youtube.com/watch?v=XgbDcXiAUmw
It's a message Brian and Caleb take to heart. They admit to always being viewed as outcasts, never really fitting in anywhere. "We remember feeling like two fucking aliens," continues Caleb. "Then, somehow, we met and we didn't have to explain ourselves to each other. We just got it."
They describe themselves as "brothers from another mother". Despite having an almost entirely female fan base, many people assume they're gay. In fact, in a Google search of the band's name, gay comes up a lot. It's likely because they dye their hair rainbow colours. They also occasionally wear female clothing. And yes, they sleep with Hello Kitty and My Little Pony dolls.
"We don't believe in traditional gender roles. We like poking fun at them any chance we get," says Brian. "I mean, who needs gender roles when you have pizza rolls? Have you tasted those things? They're seriously bomb!"
The guys acknowledge a strong respect for anyone who wears heels, like drag queens and non-gender specific people. It's part of why they asked two of the world's most popular drag artists, Violet Chachki (winner of this past season's RuPaul's Drag Race) and Alaska Thunderfuck, to appear in the "Do iT Like Miley" music video.
Alaska plays the role of Miley. "She's a lot of fun on set, and one of the most talented impersonators we've ever come across," says Brian. "You describe a character or scene to her and she doesn't need direction, she just comes alive. She embodies the character."
The guys get to sport a bit of wild drag themselves in the video, running around Hollywood Boulevard and Rodeo Drive in ladies bathing suits and stilettos. "We were complaining after three minutes in heels," laughs Brian. "It was like having your whole foot in a vice grip as your shoes fill with blood."
But it was still a good time, because having fun and getting ratchet is the whole point of the song. "When we say 'get ratchet', we mean let loose and don't worry what other people think about you," explains Caleb. "Be yourself with no apologies."
"Unless you're a sociopathic asshole," he adds. "Then you should probably rethink your life."
Team HeartBreak's first single "Do iT Like Miley" is available for download now as part of Sassy Summer Sounds album pre-order on iTunes.
The boys love to talk to fans. Say hi and tell them you love their music on their facebook page: facebook.com/thbreak. You can also follow them for sexy and hilarious pics on instagram.com/thbreak and twitter @thbreak.