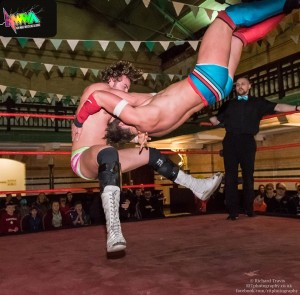 'Ruthless Images for NWWA'
      Wrestling in the UK reached its peak in the late 60s and 70s when it became a staple part of ITV's Saturday afternoon sports coverage – World of Sport. However, the audiences dropped and the UK wrestling scene seemed to disappear into the backwaters where it was superseded by the spectacular American version of the sport – World Wrestling Federation.
However, fans, gay and straight, will be pleased to know that there is currently an upsurge in its popularity as new promoters appear on the scene. New Wave Wrestling Alliance is a brand new British wrestling promotion bringing a whole new view into modern day British professional wrestling.
Bent spoke to two of the current advocates of wrestling who want to encourage a newer, bigger audience to come and enjoy the sport; 'Delicious' Danny Hope (wrestler) and 'Magic' Mark Adams (compare and commentary).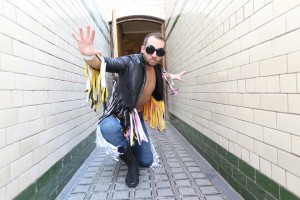 Has wrestling changed since its World of Sport hayday?
'Delicious' Danny Hope: Pro wrestling has changed considerably over the years, it's become more Americanised with influences from the likes of WWE, yet general awareness of promotions and the fact the British wrestling is alive and well is not as well documented as it used to be. However, elements of World of Sport don't seem to be embraced within promotions in the UK nowadays, where the big flamboyant characters and the sheer entertainment side of the show seem to get overlooked. That's what we're concentrating on at NWWA, the elements that attract and entertain everyone, not just the die-hard wrestling fans.
'Magic' Mark Adams: Wrestling has changed hugely since then, and it's all to do with the world getting smaller now that we have the internet. Each country had its own distinct style of wrestling in the 60s and 70s: from British grappling/ technical style to Japanese Strong Style to American showmanship. What's happened is that everyone is learning from everyone, and the amalgamated style is what we see today.
WWF (WWE) changed to the spectacular style of wrestling, was this for the better?
DDH: It was definitely for the better as people took to the characters and the sheer entertainment angles, utilising current celebrities such as Cyndi Lauper, Mr T, Mohammad Ali and Liberace, which opened up a whole new market of fans.
MMA: It certainly was for them! They make a huge amount of money from it! British wrestling promotions have done this too because it makes sense to emulate the most successful company in the world whilst adding your own unique twist (something that NWWA have done perfectly by switching people's gimmicks for example).
Is the UK playing catch up, and is there an audience out there big enough now we have video games and so many more TV choices?
DDH: We have been playing catch up a little; I think the British wrestling scene was lacking some originality and production value. However, in the last 5 or 6 years, the Indy scene here has well over taken America with quality promotions establishing themselves with original products.
MMA: I've been involved for about 6 years now, and during that time, I've seen the production values rocket from passable to almost comparable with the WWE. That's no mean feat considering how far it's come in such a little period of time.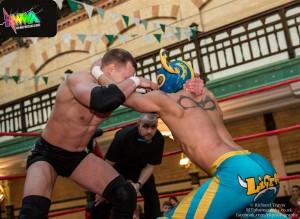 The American wrestlers are big on names and outrageous outfits (and appear keen to star in movies) is that what's needed to get the crowds back.
MMA: In a word – Absolutely. Where darts has stolen the razzmatazz of wrestling and given half of the professional players a 'gimmick', it's all about image and fame. The main fanbase will always be children and the family that bring them along, so it needs larger than life, bright good guys and dastardly villains that people want to see get their comeuppance! To be a star, you've got to live it in my opinion, and with NWWA, everyone is doing it! Even I, a man known for my garish outfits, turns it up a notch and I wear psychedelic pink!
DDH: People want to see stars they can relate to but at the same time, big stars they can see on the silver screen and characters that seem untroubled that they can look up to. A certain element of that we won't get back from the 70s now in the age of social media, but we need to be using it to our advantage.
For example, Rylan on x Factor. He wasn't the best singer, or even the best dancer but most people turned in to see his flamboyant, colourful performances – not 8 mediocre singers taking themselves too seriously. People want to be entertained.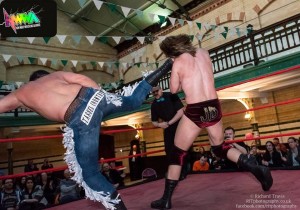 Danny tell me about your style and how you became a wrestler?
DDH: I became a wrestler when my football career ended 10 years ago. I'd always been a fan of WWE, specifically looking up to the likes of Macho Man Randy Savage, Ultimate Warrior, Shawn Michaels and Stone Cold Steve Austin. I heard about a local training school and thought I'd check it out – and the rest as they say is history!
He's a rather flamboyant and fun loving model character. Everything he wears is covered in tassels (the fans wouldn't have it any other way!), bright colours and often glitter. He prances to the ring and catwalks once in it… Says it all really!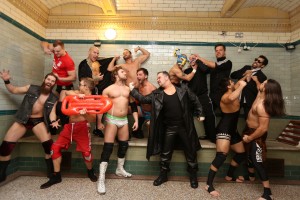 How many young wrestlers are coming through who want to be part of the sport?
DDH: There are literally hundreds of young hopefuls coming through who want to make it. Though it'll only be a handful that makes any kind of name for themselves whether it be on UK soil, or overseas.
I know that wrestling (in its many forms) is pretty big with gay men, what has the new group of wrestlers done to encourage them to attend a contest?
MMA: What a wonderfully loaded question, and I guess that I have to be the one to answer that. For me personally, as a gay man, I was too scared to get involved 15 years ago, but now I am loved in the locker room. Wrestling is something that has traditionally had a reputation for being borderline homophobic, but I genuinely say that I have seen none of that in the last 6 years that I've been working in the industry.
In a world where we're all a stereotype, gay men love a show: be it a drag act or a musical or whatever. And wrestling is just that: it's a show with all the razzmatazz and audience participation and entertainment that you could ever want.
If you want some reasonably priced, light-hearted entertainment that happens to have scantily clad muscle men, wrestling is for you.
What would you say to encourage any new punters to come and see you?
MMA: Wrestling is awesome! The British public have just forgotten that! Risk a tenner, and come along: you'll be surprised by how much fun wrestling shows really are!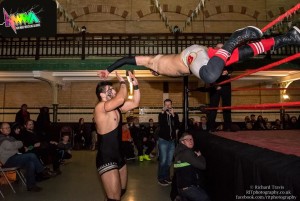 Tickets for 'Draw The Line' on June 27th The Victoria Baths Manchester are priced at £10 general admission, £12 front row, £11 second row, £7 kids and concessions and £30 family ticket (2 adults 2 children) and are available via:
Ringside World: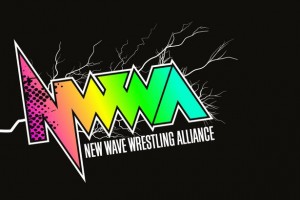 T: @NWWAlliance