Travel – Zurich Pride 2015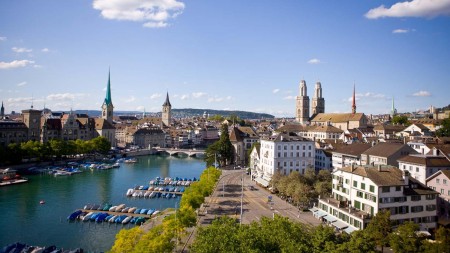 Bent's Adrian Gillan is far from neutral about the sizzling Swiss sights and scene in Zurich – not least during its annual Pride Week (14-21 June 2015).
Sitting majestically on the banks of a glorious lake, Zurich is a fusion of history, quality and beauty. This gay HQ of Switzerland also screams 'party', especially during its annual Pride Week (14-21 June 2015).
Stay
Centrally located in the booming revitalized, former industrial Zürich-West district, stay in one of the 126 colourful rooms at 25hours Hotel Zürich West (Pfingstweidstrasse 102, 8005 Zürich;) – with design by Alfredo Häberli and thus a natural member of Design Hotels! Chic yet informal and brimming with fun touches and humour, enjoy the top floor sauna/fitness area and the funky contemporary NENI 'global cuisine' restaurant, which also offers guests a hearty buffet breakfast each morning! Just 10 minutes from the city's main station, and 20 minutes from the airport! Brill!
Eat
Grab an apéro or light bite at the Rathaus Café (Limmat Quai 61;), either in its cosy indoor bar or on its spacious outdoor terrace overlooking the sparkling Limmat.
Brunch at quirky, friendly Huusmaa Bar & Restaurant (Badenerstrasse 138;), checking out its amazing patio and chalet out back; or fine-dine at Wirtschaft Neumarkt (Neumarkt 5;) with its cosy, low-ceilinged dining rooms serving local fare, plus its informal café-bar and secluded garden.
Sights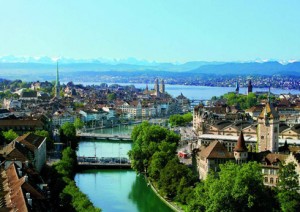 Experience more for less money with a 24/72-hour ZürichCARD allowing unlimited 2nd class travel on all public transport in the city and surrounding area; free or reduced admission to most of Zurich's museums; plus a wide range of other discounts and surprises!
Reflected in the water of its eponymous Lake, with a magnificent view of the snow-capped Alps on the horizon, 1.2 million-populated Zurich lies at the centre of Switzerland and in the heart of Europe, offering a unique mixture of attractions – over 50 museums and more than 100 art galleries; an Old Town with cute bridges and churches, like the Romanesque Grossmünster and the Fraumünster with its stained glass choir windows by Marc Chagall; international fashion labels and designs; and the most vibrant and lively nightlife in the land.
Some 150 years ago, part of the city's fortifications was transformed into the Bahnhofstrasse – Zürich's "shopping mile", which has contributed largely to the city's reputation as an El Dorado and Mecca for consumers; and is a top address for global fashion labels, plus high-end jewellery and watch brands!
You'll also find über-cool urban chic on display in the nearby Zürich-West and Aussersihl districts. Discover the Langstrasse quarter in District 4 – famous for its multicultural diversity, red light zone and well-nigh Bohemian vibe.
Love art? The Kunsthaus boasts a rich collection of paintings, sculptures, photographs and videos – notably an extensive gallery of works by Swiss genius Alberto Giacometti.
For nearby nature, several lakeside and riverside lidos are located in or near the centre of the city; and the Uetliberg, Zürich's local mountain, is great for hiking!
Zurich has always been culturally and politically liberal. Prominent figures who have found their home, or even refuge, in the city include Richard Wagner, Lenin, James Joyce, Thomas Mann, Bertolt Brecht, Max Frisch and Albert Einstein!
For more on specifically local gay history, and the occasional amazing gay walking tour, co-founded by gorgeous older couple Ernst and Röbi.
Scene
A big chunk of the gay quarter is still located in the older part of town. Graze out with the queers and bears at Marion Bistro (Mühlegasse 22;), or prowl over the street, to the Predigerhof Bistro Bar (Mühlegasse 15;) for a lighter snack or drink.
Old Cafe Odeon (Limmatquai 2;) attracts a young, arty crowd, though definitely a tad less gay than of yore; and historic Barfüsser (Spitalgasse 14;) is now a sushi bar, so hip it almost hurts, but still gay-frequented by many. Mere streets away is fruity and fresh, tucked-away two-level gay cocktail palace Cranberry (Metzgergasse 3;). For something friendly yet tad less trendy, walk north to Petra's Tip Top (Seilergraben 13;). Back near Marion, try another scene stalwart – Dynasty (Zähringerstr. 11;).
Note: several long-standing Old Town LGBT haunts have now given up the ghost – namely hustler bar Carousel, music hall bar Pigalle and staunch kitsch T&M Disco, once famed for its 'darker' upper floor! However, wonderful newer Old Town haunts now include uber-chic Platzhirsch (Spitalgasse 3;) and basement club Heaven (Spitalgasse 5;) next door.
Plus lots of new gay venues have been opening in hipster Zurich West too, including DJ-brimming Heldenbar (Sihlquai 240; ) on Wednesday nights; and see-and-be-seen Labor-Bar (Schiffbaustrasse 3;). Also check out beleathered Magnus Bar (Magnusstrasse 29;).
One of the best known and most central saunas in town is Paragonya (Mühlegasse 11;), opposite Marion. In summer, sunbathe nude on Zurich's own Werdinsel Island.
Zurich Pride
Every June, Zurich Pride Week (14-21 June 2015) attracts
10,000s of visitors, combining the best of the political aspects of annual Christopher Street Day (CSD) movements with the party city that, in 2009, hosted Europride!
Its 2-day climax Festival (19-20 June 2015) is hubbed around the Kasernenareal park, with numerous bar, food and community stalls, plus big stage shows. You can also enjoy LGBT-themed conventions and exhibitions; opening and a closing party nights at hot clubs around town like Heaven or X-tra; plus – naturally – political speeches at the Helvetiaplatz followed by a joyous crowd-stopping demo parade, with floats, right through central Zürich.
Fronted by a dozen ambassadors from around the world who led the march, including ambassadors from the US and UK, the 2015 pride theme was 'Equality Without Borders', demanding complete and unqualified human rights parity – within Switzerland, in Europe and indeed around the wider world, where homosexuality is still forbidden in more than 80 countries!
Useful contacts
For more information on Switzerland, check out MySwitzerland.com or call the Switzerland Travel Centre on freephone 00800 100 200 30
SWISS operates regular daily flights from London Heathrow, London City, Birmingham and Manchester to Zurich. For reservations call 0845 601 0956