Sitges Drag – Miss Pandora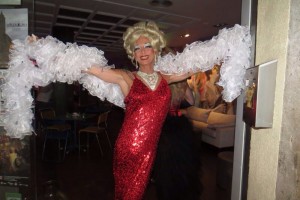 by Terry Gee 
        We had an overwhelming response to our recent feature on Drag Superstars of Sitges and adding to that number is Daryl, manager of 33 Sitges restaurant and the man behind infamous drag queen Miss Pandora. Miss P maybe in semi-retirement these days, but after almost a decade in the Mediterranean sun, Daryl is still happy to be living and working by the sea.
How long have you lived in Sitges?
I have lived here for 9 years now and I still love it as much as my first year.
What made you leave London?
I felt there was something lacking in my life. There's a quality of life here I just wasn't getting in the UK. I was also feeling it was right for a new "something" in my life. I didn't realise what that something was until I came here.
Did you here come to work as a drag queen?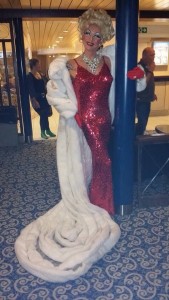 Miss Pandora was conceived here thanks to two every dear and very old friends; Lady Diamond and Miss Ruby. It's strange how stuff just have a way of happening.
What is it like to work here every day?
Ok so let's be clear about the differences between Sitges the holiday destination and Sitges a place to live and work. You have to be able to take off your holiday head and put on your normal life head, otherwise Sitges will just eat you up. It's "party central" in the summer season and we all know what happens when the candle is burned at both ends!
So what's off season like?
One of the reasons why I love it here is because in winter, Sitges is really quiet. It helps to maintain a balance after the craziness of summer. A lot of places close but we stay open all year at 33. It's also a time to be "normal" again and get together with my friends and have dinner parties, movie nights; you know, normal stuff.
Have you made good friends here?
Sitges is a great place to make friends. Some you only see from year to year as they return on their holidays and that's great and always so nice to see them again. There are also those friends who live here and together we have become a very close circle; the type of friends you can always rely upon, trust and love totally. I'm very lucky to have these people in my life, and they know who they are.
And now you have your own restaurant, tell us about it.
Yes, now I'm running 33 Sitges. It's a fusion menu restaurant and I'm loving it. 33 is a small establishment and we concentrate on quality fresh products cooked all with a hint of our special fusion magic. The restaurant is on Calle Major which is one of the back streets and only goes to show what you can find if you come away from the main "drag". (No pun intended.) We're still only in our first year and already wanting to expand to double capacity. Miss Pandora has appeared a few times with her jazz boys on our regular live jazz Sunday lunches, but she is spending a lot of time now locked up in the Betty Ford clinic, on a semi-permanent order. She does have a special knack for escaping though; so you never know when she'll resurface!
Do you think you will ever move back to the UK?
Moving here and accomplishing so much is all about moving forward in one's life; new experiences, some good, some not so good. But that's life and I love it. So moving back to the UK is not in my sights at the moment, but my motto is "never say never."
You can see Daryl/Miss Pandora most days at 33 Sitges