EQUINOX LAUNCHES #POWEREDBYPRIDE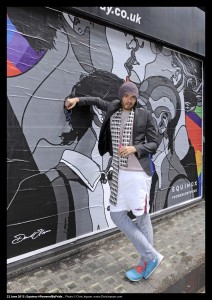 Equinox, the high performance lifestyle leader, announces #POWEREDBYPRIDE, an interactive social media and art activation. In support of the LGBTQA community and in celebration of Pride Month, Equinox has partnered with Los Angeles based artist, David Flores to create an interactive mural in London, New York, and San Francisco.
As a social activation, Equinox highlights members and staff who are #POWEREDBYPRIDE with personal quotes providing context to the hashtag and encourages others to share their thoughts and offer them a platform to explain how Pride powers their lives.
Equinox commissioned interactive murals to be a visually striking display around the universal love that unites people and reinforces the message of Pride. Additionally, the activation was put into place to show support for the LGBTQA community. It offers a place for those who believe in the message displayed to visit and complete the artwork to express what being #POWEREDBYPRIDE means to them.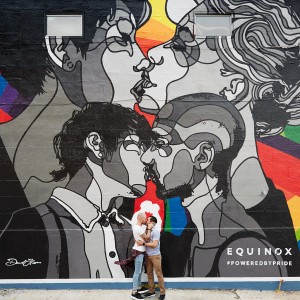 "Art is most powerful when delivering a social message," Flores said. "As an artist, I am a big supporter of self-expression and the LGBTQA community. Everyone deserves to be proud of who they are."
"Equinox empowers its members to be confident and proud of whom they are," says Carlos Becil, Equinox Chief Marketing Officer. "We are proud to say that our members are diverse and #POWEREDBYPRIDE allow us to show our support for the LGBTQA community and the importance of confidence and living life to the fullest. The collaboration with the Hetrick-Martin Institute and The Pillion Trust aligns with our mission to encourage everyone to be the best version of themselves."
The Hetrick-Martin Institute is a charity seeking to foster healthy development for struggling LGBTQ youth. "We are proud to work with Equinox as they understand and embrace the importance of wellness, both physically and emotionally," says Dara Gordon Chief Operating Officer of the Hentrick-Martin Institute. "We love that Equinox supports our work and is celebrating Pride as it is essential to rise up our community."
In London, #POWEREDBYPRIDE will support The Pillion Trust, an organization that offers the LGBTQ community stability, friendship and safe place for those who are struggling to understand their sexuality and gender identities, which can lead to self-harm, depression and suicide
"Equinox and the #POWEREDBYPRIDE activation is so important because it recognizes the need to help brighten the future of those individuals who are at risk, both emotionally and physically," says Savvas Panas, CEO of The Pillion Trust.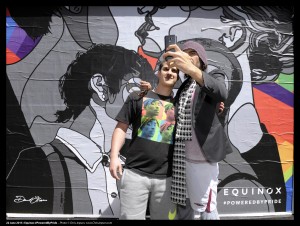 For every use of the hashtag #POWEREDBYPRIDE, Equinox will donate £1 to the Hetrick-Martin Institute and The Pillion Trust each time the hashtag is used.
To get involved, visit the #POWERBYPRIDE in New York in Williamsburg, at North 13th and Wythe Avenue anytime from June 17 – July 13, in London in Soho on Berwick Street any time from June 21 – July 4 and in San Francisco at 923 Market Street from June 17 – July 13 and post on social media what makes you #POWEREDBYPRIDE.