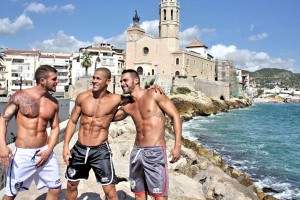 By Terry Gee
       Sitges is a small coastal town just south of Barcelona and has become a gay mecca of the Mediterranean.
Imagine a sleepy, Spanish town with white-wash buildings, winding, narrow streets and a vast and beautiful coastline. There are no fast food chains, there are no high street shops and there is very little traffic. Now imagine a huge gay population encapsulating and accommodating every walk of life from twinks to bears, jocks to fetish guys, drag queens to regular Joes and everyone in-between. All are welcome. But in a place that is so heavily populated by gay men and women somehow it's not in your face. No one is trying too hard or showing off, it just is what it is. Personally I think this is one of the greatest places anyone from the LGBT community can visit. It's not pretentious or cliquey, it's one of the most relaxed gay scenes I've been ever been too – and probably why this was my fourth visit.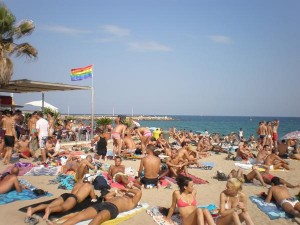 The beach is the main focus of Sitges, both day and night. In total there are twenty-two beaches, three of them gay – although all the beaches here are mixed. The main gay beach is Playa de la Bassa Rodona, right on the sea front and is where I spent most days. There is a charge for the beach beds, but after a heavy night of drinking, those 5 euros are well worth the money. In the height of summer, it is worth getting there early as those beds will go quickly and your 5 euros will get you a bed for the day.
If you want to get your kit off, you'll want to visit the two nudist gay beaches. Las Balmins is left on the other side of the church (the main landmark of Sitges) and the other is Playa del Muerto. It's an hour walk from the centre and can be quite treacherous terrain in places. Watch out for the 130km per hour running trains when you're crossing the track! You can get a taxi to L'Atlantida Disco and walk for 10 minutes to find the notorious gay sex beach, which is the advised and less deadly way to get there. I don't know what guys you go for, but the 'hit by a train look' is not one I tend to veer towards.
After a strenuous day sunning yourself on the beach (or whatever else you've been doing) you'll need some down time and a good meal. If you're a seafood lover, you're in luck. The restaurants here know how to prepare and cook a variety of excellent fish. On the seafront is Santa Maria, famous for its shellfish and wine selection. Not all the cuisine is seafood, there are some fantastic BBQ restaurants here and for a little class at a relatively inexpensive price, you should try 33 Sitges. The food is incredible with an Asian fusion style and attentive staff who know about the food and wine they're serving; definitely worth a visit. And for something a little more entertaining, you can even have dinner and a show. Parrots is one of the most popular and well known bars here serving cocktails that will knock your socks off and make you smile with their pop icon naming. There are fourteen different mojitos as well as ever other cocktail you can think of. (The Celine Dion is my favourite.) Parrots also have a restaurant and every Friday, the infamous drag artiste, Lady Diamond provides entertainment while you eat. An evening of comedy and song while you tuck into your sirloin steak is a good way to start your night. I say start, but the show doesn't even kick off until 10pm – this is Spain remember, the bars won't get busy until midnight and most won't open until 11pm.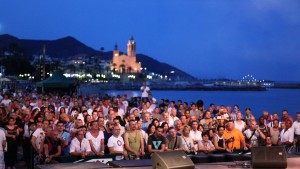 After dinner, it's worth popping into Queen's. There is an outside bar which tends to get busy quite quickly. The cocktails are lethal though so be carefully if you've got a couple of Celine's already inside you, there are still many bars to see and you don't want to peak too early. Bears Bar is above Queens and is tailored towards bears, (obvs!) and across the street is Dark Bar. The staff here are usually serving you drinks while wearing a jock – and only a jock. There is also a dark room in the rear if – you know – you want to go somewhere that's dark. Don't be put off by the exterior, it's actually a lot of fun inside whether you're cruising or just after somewhere to sit and chat with a few mates. Club XXL is open till 3am along with most of the bars but in the summer nights, everyone is out in the streets drinking and laughing anyway. After the bars close, the clubs start to fill up. Places like Organic and Zona X are a lot of fun, but there are many to choose from. But if you've already had far too much to drink and fancy a quiet stroll along the beach, you will find many men down there with the same agenda. Watch your wallets when down there at night and remember if you are very drunk, the rocky piers are probably best avoided.
Falling into bed in the early hours is the norm in Sitges, but luckily most places are still serving breakfast at midday when your day is likely to begin. After a night of cock and tails, you'll need to sober up. I stumbled upon a fantastic restaurant called Red Velvet. It's on the seafront near the church and serves a huge English breakfast for around 8 euros. That with tea and freshly squeezed OJ set me up for another day baking in the sun. (I may have to kick someone off their sunbed though; I'm too delicate to lay on the sand.)
Sitges is all about sun, sea, sex, food and drink. If you want culture and shopping, Barcelona is only a 30 minute train ride away and south of Sitges is Port Aventura, the Spanish equivalent to Thorpe Park.
From May to September, Sitges is a non-stop party town full to the brim with hot men from all over Europe. If you're making it a day trip, be mindful that weekends are the busiest as a lot of locals from Barcelona make the same journey when they're not working. If you're there for a week or more, pace yourself. The drinks are strong and it won't take many to knock you off your feet; we're used to the stingy English measures. But above all, have a blast. Let your hair down, have fun and feel comfortable and safe being you.