Travel – Gay Barcelona by Terry Gee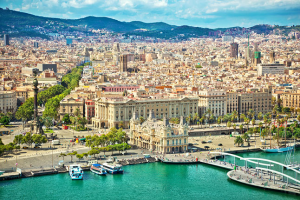 By Terry Gee
      Most of us have a checklist of things we want from a holiday. Sun, sea and sand is usually a must, but what about history, culture, good food, nightlife and an accepting gay scene? Barcelona has it all.
It took just one and a half hours to fly from London to Barcelona – and it was raining! Luckily it didn't last long and the next day was shorts and T-Shirt weather (at least for a Brit abroad anyway). Barcelona is the capital of Catalonia, a small region in northern Spain. For years the Catalonian people have talked about and wanted independence. I stayed with a resident there and he explained that they even have their own language. Don't worry though, it is very similar to Spanish and most people do speak both languages, as well as English. The city is a bustling hive of activity and excitement. With only 1.5 million residents, it is the sea of tourists who plug up the main areas. You'll hear a cosmopolitan mix of languages as you walk through Las Ramblas or any of the monuments and parks. There is so much to see and do, it is wise to take one of the bus tours on your first few days, just to get your bearings and see what this beautiful city has to offer.

Barcelona boasts many golden beaches just 20 minutes' walk from the centre. As well as the many regular beaches there are also two gay friendly and clothing optional ones as well. The first is Mar Bella and is especially popular with locals on a weekend. It's situated at the northern end of the seafront next to the beach bar, Chiringuito. The second is Sant Sebastia. This town beach is south of Mar Bella behind the marina. It's strange to think that just a few decades ago; Barcelona didn't even have a beach. Industry dominated the coastline and the sand had been washed away. It was only after the Olympics in 1992 that Barcelona became a major tourist destination and the massive waterfront was revitalised; the industrial buildings have long since been relocated and replaced with the almost mile long beach. It is so impressive that National Geographic has voted it the best city beach in the Mediterranean. So whether you want to walk barefoot on the golden sand, have a swim in the clear, blue ocean or just sunbathe without the worry of gaining a tan, Barcelona has you covered.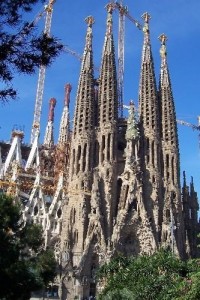 Probably the biggest attraction in the city is the Sagrada Familia. Also known as the 'Unfinished Church', this towering monument is Antoni Gaudi's greatest achievement, but one that was too ambitious for him to see finished. Started in 1882, Gaudi died in 1926 and the church won't be completed until 2028. Visitors are now allowed inside to witness the true spender of this incredible building and the newly installed stained glass windows. There is also an elevator that takes you to the top of the spires to give amazing views of the surrounding city.
Gaudi is prevalent all across the city and you can see his work everywhere. Park Guell is a testament to the genius of the Spanish architect and designer. With its mosaic walls and undeniable Gaudi style, this is one stop that should be on every tourist's to-do list.
Shopping in Barcelona is vast. Just walking through Las Ramblas you will find many big named stores as well as smaller, independent sellers. Food is plentiful with tapas on every street corner and paella a main pull at lunch time. Remember that the best food is often found off the main drag and is usually a lot cheaper. I was lucky to have my friend take me to all the best spots, but there are so many great places to eat and drink, it won't take long to find that perfect eatery.

There is also a thriving gay scene in Barcelona. As with a lot of European cities, the bars don't usually get busy until midnight, but there are plenty of shops, cafes and even saunas to keep you entertained in the interim. Barcelona is known for its circuit party style clubs with hot, muscle boys gyrating in nothing more than a jock and a cheeky smile – and that's always worth seeing. Try and pick up a discount entry flyer at one of the bars for cheaper admittance and remember that most entrance prices include one free drink.
Barcelona seems to be very gay tolerant, even holding hands in the street isn't an issue. One thing to watch though is the amount of pick pockets. Every guide will warn you of this and although I have not been a victim, I do carry my wallet on a chain. As with anywhere you visit, just be cautious and not carry a stack of 50 euro notes around with you.
But if you want to get out of the city all together, just down the road is Sitges, one of the gayest places in Europe, and it's a beach resort!