Drag Superstars of Sitges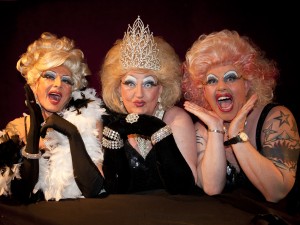 By Terry Gee
    When we think of drag, many of us instantly think of Ru Paul's Drag Race. And why not? It's a brilliant show. But drag doesn't start and end with the sashaying girls on TV, there are drag queens all over the globe who are shanteing every day. These are the drag superstars who work in the bars and clubs every week and deserve just as much adoration for their charisma, uniqueness, nerve and talent.
Ben is the face of Queenz Terrace Bar in Sitges and alter-ego Miss Ruby. Miss Ruby and Lady Diamond are undoubtedly the biggest names on the Sitges scene, but behind the makeup these two drag sisters are a loving British couple who now live and perform in the Spanish town.
How long have you and Lady Diamond been together?
Miss Ruby: We've been together for 22 years. We met on a blind date!
How did you get into drag?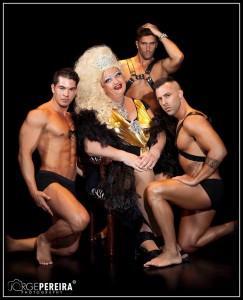 Lady Diamond: Completely by accident! I mean I had dressed up before at birthdays and stuff but nothing ever serious. Whilst I was working at the Beach House here in Sitges, a private birthday party had reserved the whole restaurant for the evening. One of their requests was for a "Marilyn Monroe" to sing Happy Birthday when the cake arrived. Well, being in Spain, there are no agencies like in the UK to provide such a service, so after some arm twisting and cajoling, I was the nominated Ms Monroe. Afterwards the whole party moved on to a club, Prinz here in Sitges and I sang happy Birthday again but this time it was with a stripper. It seemed to go down well with the Club audience so much that I just carried on chatting and almost became like a club Hostess for the evening.
Miss Ruby: I actually started a couple of years later. I first tried drag at Carnival when I was worked in a bar. Back then I was very shy and uncomfortable being in drag. I looked just like a man in a dress, a man who was very uncomfortable being in a dress. The photos of that time really show how nervous I was and my boss at the time said "I had to be gayer." To be honest I didn't really know what he meant.
Do you and Lady Diamond have any fights over make-up and wigs?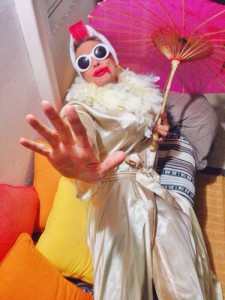 Miss Ruby: (Laughs) No, we actually have our own make up and wigs. Our styles are very different!
Lady Diamond: We never fight over "drag stuff" we share and share alike but Ruby has her "stuff" and I have mine; we even have separate makeup. Dresses are made for each of us and it's rare that we would wear each other's outfits even though we are both the same size. We do have a few identical dresses that we wear sometimes when performing together. Mind you, my sister Ruby is fast becoming a force to be reckoned with as she "launches" herself on Sitges society. You can hardly turn a corner and not run into her, or pick up a magazine or newspaper without seeing her face smiling up at you. Am I jealous? Nah, if she's having fun it's all worth it. That's the reason we came here, to have fun!
Was it difficult to make the move from the UK to Spain?
Lady Diamond: Not really, the most difficult thing was to give up my job after 14 years, not something you do lightly in London. But the pull of Sitges was so strong; it spurred me on to make the change. We came across on the boat from Portsmouth to Bilbao with the car packed to the rafters it was quite a comical journey – two queens and everything they possess – on a road trip: destination Sitges.
So on average, how much sleep a night do you get in the peak season?
Miss Ruby: I usually go to bed at 6am and manage around 5 hours sleep after work then another 2 hour siesta in the afternoon.
As a singer, who is your favourite artist to cover?
Lady Diamond: Singer????? Your words not mine!!! I have 5 quite good notes; the rest can be hit and miss sometimes! (Laughs) I don't have a favourite singer but as a "lady" of a certain age, I do favour 50s/70s music. The common misconception is that I mainly choose female vocalists but I have Male vocal chords so more often than not I choose to sing songs recorded by male vocalists. That said if Liza (and I mean Fat Liza not the young slim Liza) can sing it, so can I. We both sweat the same too!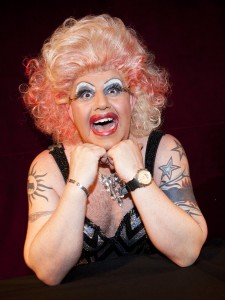 As part of your "world tour" in the winter, you perform in Asia. Has that become an annual event now?
Miss Ruby: Performing in Asia is such fun. We perform for two charities we support to raise money for them. The first is Pattaya Street Kids. The money raised takes kids off the streets, feeds them and gives them education.
The second charity we raised money for is a free HIV doctor to whoever needs help and medication.
Lady Diamond: We have been very lucky performing here in Sitges to an international audience, so it wasn't hard to make the tour grow within continental Europe and just last year, the tour went to the Netherlands, Belgium, France, Ireland, Sweden, Finland and even a stint with 4 shows in Thailand.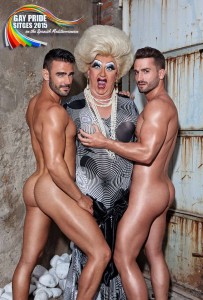 To many, your life must seem idyllic. You live and work in the sun, travel the world and brighten people's lives every day. Do you have any advice to aspiring drag queens wanting to follow in your footsteps?
Miss Ruby: My advice to anyone wanting to be a Drag queen is to be yourself. Don't try to be someone you're not. Find your own style, there is only one Ru Paul as there is only one Miss Ruby. Make yourself unique with your personality. Most importantly be yourself & enjoy being that person.
Lady Diamond: Life is very different from when we lived in the UK, a lot less stressful. I always say to people, living in Spain is like living in 1950s Britain. People talk to you in the street and everything has a slower pace. Shopping is done in small shops where you have a chat whist fingering the produce. Friends stop for coffee at lovely outside terrace cafes. Socialising is a big part of our day and of course with the Med at the end of almost every street it's always nice to pop down to the beach, dip a toe into that lovely sea and let it wash your woes away, that is, if you have any living here!