Lonely Planet Releases Free 'Guide to Pride' Digital Book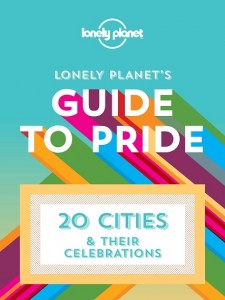 Lonely Planet, the world's leading travel media company, is pleased to announce the release of Lonely Planet's Guide to Pride: 20 Cities & Their Celebrations, a free digital book now available worldwide, exclusively on iBooks: http://itunes.com/prideguide
Since the first Gay Pride marches took to the streets 45 years ago, Pride has blossomed into a worldwide celebration of community, diversity, inclusiveness and individuality. Inspired by festivities hosted by cities large and small throughout the year, Lonely Planet's Guide to Pride covers 20 of the biggest, most-welcoming and jump-on-a-plane-worthy Pride events around the world, from Taipei to Toronto, San Francisco to São Paulo.
Lonely Planet's global community of travel experts offer their top local picks including the what, where and when of each city's Pride celebration, as well as must-see sights, local experiences and the best gay-friendly places to eat, drink and sleep. To be directed to each listing's website or phone number, users can simply tap their screen to get connected.
"Lonely Planet's Guide to Pride is a resource—and hopefully a source of inspiration—for LGBT travellers, who have long been part of the Lonely Planet community," said Lonely Planet's Chris Zeiher. "Even if you miss Pride, the destinations and travel tips in this book will serve you year-round."
Lonely Planet's Guide to Pride features the following cities:
Amsterdam ·       Atlanta ·       Auckland ·       Berlin ·       Buenos Aires ·       Cape Town ·       Dublin ·       London ·       Madrid ·       Melbourne ·       New York City ·       Paris ·       Puerto Vallarta ·       Reykjavík ·       San Francisco ·       São Paulo ·       Sydney ·       Taipei ·       Toronto ·       Vancouver
Packed with advice, invaluable information and full-colour photography, Lonely Planet's Guide to Pride will inspire travel whether planning a trip around Pride or visiting any time of the year.