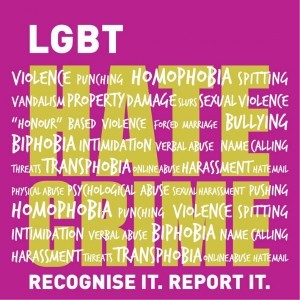 LGBT Consortium is proud to have worked with 30 of its member organisations to develop a campaign centred on tackling Hate Crime across England and Wales, which launches this week.
Over 39,000 people suffer some form of harassment, abuse, graffiti and other crime motivated by homophobia, biphobia or transphobia, yet only 6% of anti-LGBT harassment in the UK is reported to police.
This campaign is aimed at encouraging LGBT people and their supporters to recognise hate crimes when they happen, to seek help and support; and if possible, report it.
Paul Roberts, Chief Executive of the LGBT Consortium, said: "LGBT communities are already working with the police to remove barriers to reporting, and offer practical and emotional support. However, too often, LGBT people don't know they are experiencing hate crime or just shrug it off.
"Collectively, we are saying it is time to move on from this. Our message today is recognise hate crime when it happens, report it, and get support when you need it.
"Home office statistics show that 34% of people who experience hate crime are very emotionally affected by it compared with 14% who experience other types of crime, so it really is important that people get the emotional and practical support they need, even if they don't go to the police."

Nik Noone, Chief Executive of Galop, the project's lead delivery partner and specialist LGBT anti-violence charity, said: "It is not acceptable that people go so long without support and assistance, so I am pleased that our partnership is working to build strong local community responses to homophobia, biphobia and transphobia in every village, town and city.
"It's especially important that this campaign reaches rural areas where LGBT people can experience increased isolation and barriers to reporting. Galop is delighted to be working collaboratively with partners in rural areas to break down barriers and increase access to services for LGBT people who have experience hate crime."
A list of regional helplines can be found at www.lgbthatecrime.org.uk/#get-support . Alternatively people can call Galop on 020 7704 2040 or the police non-emergency line on 101. In an emergency always dial 999.
Please support our campaign by changing your profile pic on Facebook & Twitter, you can also download an email banner.
This campaign is part of a wider project funded by the Equality and Human Rights Commission, which aims to remove some of the barriers to reporting. To learn more about the campaign and the wider project visit www.lgbthatecrime.org.uk/#project-overview
LGBT Consortium is looking forward to working in partnership with members on other projects in the future and we hope that it is the start of more joint working within the LGBT Sector.
#lgbthatecrime