Homophobia at primary school age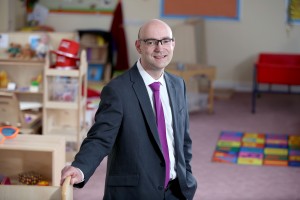 Image: Dr Jonathan Glazzard
     Dr Jonathan Glazzard, course leader in primary education, will receive £10,000 for his National Teaching Fellowship project
Success in the UK's most prestigious educational awards scheme will enable University of Huddersfield lecturer Dr Jonathan Glazzard to carry out research that aims to stop homophobic attitudes taking root in young children. He describes it as "education for social justice".
Dr Glazzard, who is a University Teaching Fellow and course leader in primary education in the School of Education and Professional Development (SEPD), is the latest member of the University of Huddersfield's staff to have been awarded a National Teaching Fellowship (NTF) by the Higher Education Academy.
This scheme, now in its 15th year, celebrates outstanding achievement in learning and teaching in Higher Education and is backed by the Government's Higher Education Funding Council. Every year, some 55 awards of £10,000 are made, enabling recipients to enhance their professional development.
Dr Glazzard, a former primary school assistant head who switched to Higher Education in 2005, is planning the research project that he will undertake as part of his National Teaching Fellowship.
"I am interested in looking at how schools and student teachers can address homophobia in the primary school," said Dr Glazzard, adding that the issue was currently the subject of considerable political focus.
He will try to learn more about how primary age children can acquire attitudes that later become entrenched as prejudices.
"A lot of it is to do with the association of gender roles and identities and the singling out of children who don't conform to those gender stereotypes – such as boys who don't want to play sports, for example. It is an unconscious homophobia, but it develops later on," said Dr Glazzard.
As a National Teaching Fellow, he is keen to explore the issues with the University of Huddersfield's network of partner schools, which collaborate closely in the training of new generations of teachers.
"It is a particularly challenging issue for schools to address, but it is not just about dealing with it in a preventative or reactive way," said Dr Glazzard. "It is about educating children about relationships, and gender roles and it starts with reading stories to children that show different types of relationship. It is about education for social justice."
One of Dr Glazzard's goals is to train students who would then visit schools and work with children on projects dealing with inclusion and diversity.
He emphasises the "critical" importance of good primary education and teacher training.
"Standards have been raised in schools, so expectations are very high. It is really important that primary teachers are of an exceptionally good standard because the bar has been raised," said Dr Glazzard, whose recent cohorts of students have achieved exceptionably high marks at graduation.
In 2013, all of them scored a first class or upper second class degree. In 2014, 94 per cent of them achieved firsts, with this figure expected to rise still further in 2015. In 2012, Ofsted rated the courses led by Dr Glazzard as "outstanding".
The University of Huddersfield has had an unparalleled run of National Teaching Fellowship success. It has received at least one Fellowship annually for the past eight years, with a total of twelve awards in that time.