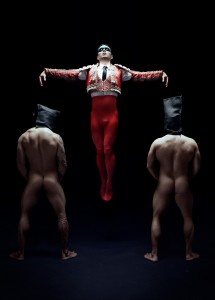 The wall (byandforChristine) by Diogo Duarte
The artists selected and Curated by Jason Colchin-Carter of Isis Phoenix Arts for exhibition at Pride mark a sea-change in attitudes to LGBTQ art.
In the old days LGBTQ art tended to be both sexually and geographically parochial. Most of it was about the direct representation of sexual arts. Very little of it was either poetic or symbolic, and it seldom strayed outside the borders of Western Europe and the USA. The latter part of this statement remains true to some extent, as art of this kind can only flourish in fairly liberal societies. I can remember the long ago pre-digital days when it was quite a job to find any lab willing to develop photographs with homosexual subject matter. Advances in technology, just as much as a series of radical shifts in social attitudes, have put paid to that. Now it's shoot it, edit it, print it. If you don't want to, there's no need to go outside – the gay photographer can undertake all the necessary processes himself or herself. In other words, new technology is one of the things that is helping to give us equality. Technology is usefully blind to sexual orientation.
There is, of course, still a necessary element of polemic in gay art, especially when it deals with disability. This show contains a remarkable work called Barriers, by the disabled Lesbian artist Heather Carol. But this is primarily a symbolic, poetic statement, and the basic message is not specifically LGBTQ. You can construe what you see in quite a number of different ways.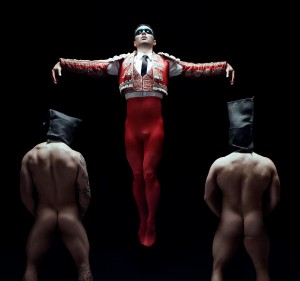 While it is impossible to cite and describe all the artists included in a very diverse show, the artists Diego Duarte and Heather Carol seem to me key figures. What one sees in his work is the impact of the wilder and more creative side of pop music, and in particular that of David Bowie, who was recently the subject of a massively successful show at the V&A.
In curating this show Jason Colchin-Carter is carrying out part of a wider mission. Isis Phoenix Arts has ongoing projects in Asia and in the United States, as well as in the UK & Europe, and an increasingly wide experience of many types of project management. IPA are establishing a firm support of this rapidly-expanding area of London with a further exhibition in neighbouring Nolia's Gallery on 60 Great Suffolk Street, Bankside London, SE1 OBL for IPA Artist Harry Brereton from 25th June – 3rd July (Private View on 25th June 6-10pm) This ArtPride Bankside exhibition fits into a broader vision of what truly contemporary exhibitions should try to do.
Words by Edward Lucie-Smith
Bankside Space, Basement 32 Southwark Bridge Road SE1 9EU
Every day: 2pm to 7pm – 22nd – 26th June
Entrance on Sumber Street, behind the Tate Modern Gallery.