truTV welcomes RuPaul's Drag Race to the UK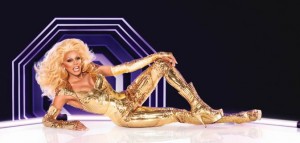 RuPaul's Drag Race, the pop culture phenomenon that has taken the world by its weave has finally found a British home at truTV. The launch will mark the show's long-awaited return to free to air television in the UK.
For those that haven't seen it, RuPaul's Drag Race sees America's drag elite throwing their 'wigs to the wall' in a bid to win the coveted title of 'America's Next Drag Superstar' through a variety of jaw-dropping challenges. Its host and creator is 6ft 4 drag icon and philosophical compass RuPaul Charles, famous for catchphrases like "If you don't love yourself, how in the hell you gonna love somebody else?"
From Monday 1st June, the larger-than-life terrestrial TV channel will be airing the extreme reality competition every week at 10pm beginning with season four as a UK TV exclusive. It will be followed by RuPaul's Drag Race: Untucked, a raucous and X-rated behind-the-scenes glimpse into the backstage antics of the competing Queens that's never been seen by UK fans.
In every show the Queens are marked on their make-up, style, dress-making skills, personality and performance. The show finale sees the bottom two Queens "lip sync for their lives" before RuPaul utters the famous words "Sashay Away" to send one unlucky Queen packing.
Packed full of quick wit, withering put downs and delicious wisecracks, RuPaul's Drag Race Season Four will give UK viewers unrivalled access to a world brimming with drama, budding relationships and rivalries.
Season four competitors are some of the most outrageous yet and include the 'Dragulous' Sharon Needles, Chad Michaels and Latrice Royale who between them and their rivals take enormous wigs, body padding and contouring to the max.
To decide who is 'Busted' (an unrefined or poorly presented Queen) or 'Dusted' (a polished, flawless or perfected Queen), RuPaul is joined in Season Four by an array of celebrity guest judges including best friend Michelle Visage, Pamela Anderson, Kelly Osbourne and Jennifer Love Hewitt.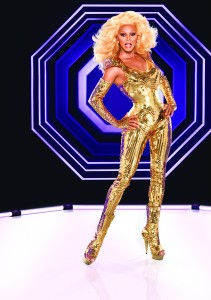 RuPaul Charles, creator and host of the show says: "I am beyond thrilled that RuPaul's Drag Race is coming to the UK on truTV. This show is a celebration of the art of drag. Not only is it dazzling to watch, it's funny, outrageous, heart-warming, stupid and wickedly smart – all at the same time! But at its heart, the show is really about the perseverance of the human spirit. These fierce and talented queens were once the little boys that were picked on and bullied. They were told that they were "too much" and that little boys don't act or dress that way. That's why the fan base of the show keeps growing every year – and around the world… Because Drag Race appeals to anyone – young or old, gay or straight – who marches to the beat of a different drum and who isn't afraid to let their freak flag fly high. Like I always say, you're born naked and the rest is drag."
Jane Mote, channel director of general entertainment, Turner Broadcasting, UK commented: "RuPaul's Drag Race is an entertaining, outrageous show packed full of larger-than-life characters with a balance of humour and warmth that our viewers will love. It's a perfect fit for truTV, complementing the existing schedule and showcasing the channel's sense of fun. "
RuPaul's Drag Race will air every Monday at 10pm from 1st June on truTV, freeview channel 68 and Sky 565. It's followed by RuPaul's Drag Race: Untucked, that contains never-seen-before behind the scenes content at 11pm.