Travel – Fabulous Fethiye!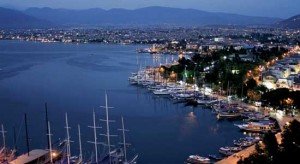 History, culture, nightlife: Adrian Gillan flies Monarch to Dalaman and falls in love with nearby Fethiye, jewel of the Turkish Riviera…
On a beautiful peninsula where the Aegean meets the Med, Fethiye is one of Turkey's most dramatically beautiful resorts, famous for its history plus its modern, friendly, well-nigh Bohemian, feel. And nearby Dalaman airport is only 3½ hours away by Monarch from Birmingham, Manchester, Leeds-Bradford, London Luton or London Gatwick airports.
Modern Fethiye, with its 80,000 local inhabitants in Turkey's Mugla Province, is built on the site of ancient Telmessos – named after a supposed demi-god son of Apollo, a god who himself had an oracle here – the most important city amongst the Lycian peoples. The town has since passed through many hands including the Persians, Greeks (Alexander the Great), Romans, Arabs, Turks and Ottomans, changing name several times until renamed 'Fethiye', in 1934, in honour of Fethi Bey, an air force hero.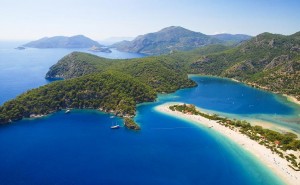 The metropolitan area of Fethiye stretches inland from the harbour, incorporating several villages. To the north lies Çaliş Plaji (main beach) where many hotels are based. To the east lie Gunlukbaşi, Çamkoy, Cumhuriyet and Esenköy. To the south lie Kayaköy and Öludeniz, with its 'Blue Lagoon'.
In the past decade or so, Fethiye has become beloved by Brits – attracted to its climate, natural beauty, less expensive lifestyle and friendly locals. Over 7,000 Brits now permanently live here, with 100,000s more visiting every summer. Moreover, despite lacking any gay-exclusive venues, its relaxed and liberal way of life also attracts a significant number of Turkish and foreign gay tourists.
Money: 4 Turkish Lira = £1 approx. Time difference: GMT +2. Flight time from UK: 3½ hours. Dalaman airport lies 40 miles North West of Fethiye, connected by regular Havas/Muttas buses (10TL each way). The best/cheapest way to get around town, and the region, is by 'dolmuş' – a shared taxi following a fixed route. Inexpensive tourist visas can be easily bought in advance online; or at the airport on arrival. Note: Don't be at all surprised if you're woken, occasionally, by the odd, very mild, earth tremor, as continental plates gently shift and collide! Fethiye has experienced many earthquakes over the centuries, the most recent significant ones back in the 1950s/60s.
STAY
There are hundreds of accommodation options in Fethiye, from excellent budget Fethiye Guesthouse, scarce 50m from the marina – with its own sexy young staff, fab breakfasts and sea-view terrace bar – right up to a fair few 5-star resorts.
SEE 'N DO
More than just beaches and bars! Some musts, most easily accessible on foot from the marina/harbour: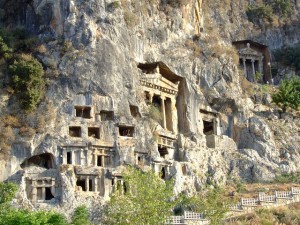 Fethiye Museum – near the harbour, crammed with ancient artefacts and displays, clearly demonstrating the successive civilizations that inhabited this area, from the Lycians onwards.
Lycian Rock Tombs – elaborate 4th Century BC tombs carved into cliffs behind the city, the largest, most beautiful and famous of which is the Tomb of Amyntas.
Lycian Sarcophagi – found scattered throughout Fethiye, the most noteworthy and beautiful being near the Government House, featuring reliefs depicting warriors.
Telmessos Theatre – Graeco-Roman theatre by the harbour, with its original raised stage added around 200AD by the Romans. Long-lost, it was excavated in the early 1990s, is still being extensively reconstructed, and boasts 6,000 capacity on 28 rows!
Castle Ruins – perched high, the original walls date back to the 11th Century, but were largely rebuilt during the 15th Century by the Knights of Rhodes. Not much left now, in truth, but the climb up here affords great views back across the whole town and bay, especially at sunset.
Turkish Baths (hamams) – there are two in Fethiye, neither of them overtly gay-friendly: the old 16th Century touristy one (Turk Hamami, Hamam Sokak, near marina;), plus a far newer one, used by locals (Kaya Hamamı, Garaj Karsisi, near intercity bus terminal).
Öludeniz – exclusive resort a short 25-minute drive just south of Fethiye, famous for its secluded sandy bay and picturesque 'Blue Lagoon'. National Park and UNESCO-listed due to flora. Cheap (5TL each way) dolmuşes shuttle back and forth from Fethiye bus station 3-4 times an hour.
BOOZE 'N BOP
Liberal Bohemian Fethiye is popular among Turkish gays, not least in summer. Although, there are no gay-exclusive, or even overtly gay-wooing, venues in Fethiye, one or two are known to be gay-frequented. Mango Bar (29 Hamam Sokak 29;) is a small indoor dance club with a young local crowd, mainly Turkish music and resident drag artist, Pasha. Note: Run by two English guys for the last decade, Kismet Bar (harbour, opposite the Culture Centre;) has sadly been under threat from developers of late, but its courageous owners vow we haven't quite heard the very last of it, or them, just yet!
Gents have been known to "take airs" of a night amidst the eastern stretch of harbour waterfront park; or around the shingly far northern end of Calis Beach, near the last dolmuş stop. As ever, beware.
OTHER USEFUL CONTACTS
Monarch, the scheduled leisure airline, operates flights to Dalaman (close to Fethiye) from Birmingham, Manchester, Leeds-Bradford, London Luton and London Gatwick airports with fares, including taxes, starting from £49.99 one way (£111.94 return). In addition to year-round low fares, Monarch also offers a range of products and services, both on the ground and in-flight. Everyone is allocated a seat at check-in but seats can be pre-booked from £4.99 per one-way flight, to ensure that families and groups are seated together. For those looking for added comfort, extra legroom seats are also available, offering up to 15% extra space for your legs, from only £12.99 one-way. You can do your online check-in between 28 days and 6 hours pre departure. A great range of tasty hot and cold meals can be pre-booked or purchased onboard.