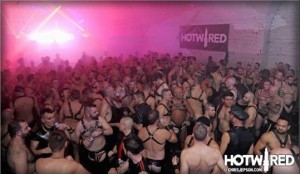 By Terry Gee
With such a large gay population in London, there is a vast and diverse scene here in the capital. Fetish events have grown over the past decade. Gone are the days when small, underground venues would hold one off events hidden from the view of the rest of the world. Now the fetish community has grown and stepped out of the shadows. No longer the dark and seedy side of the scene, it is being shown for what it really is – the same as every other just in more elaborate and (usually) more expensive attire.
Hotwired is the brainchild of Suzie Krueger and Rob Rutt and it first launched in 2010. Hotwired is a once a year super event which pulls in the crowds from all over Europe. Hotwired Sports was new for this year and although focused on sportswear was also open to leather and rubber fetishists as well – good news for me as I'm a leather man.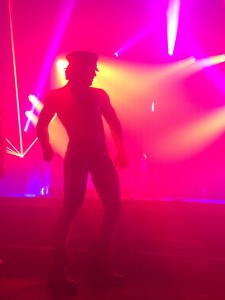 Hotwired is held in a huge, underground carpark in south London. With the majority of people donning their fetish gear at the event, cloakrooms and changing areas are usually a disorganised mess, but not here. With two cloakrooms and more than enough space to change, this was one of the best experiences I have had. The time from door to dancefloor was less than ten minutes.
The dancefloor was located in the first arch. By midnight, this room was packed full of hot, sweaty bodies gyrating to the sounds of dirty house. The next arch was the main social hub with two bars and the exit to the smoking area outside. All other rooms focused on cruising with mazes, slings, beds and even a huge pick-up truck at the back of the main arch.
Being a part of the fetish community for many years' means I have a lot of friends on the scene. Scattered all across Europe, it is usually only at events like these that I get to see many of them. Fetish doesn't always mean sex, I find that it is the most inclusive and social scene I have been part of. A lot of my night was spent catching up with people, dancing my leathered ass off on the dancefloor and trying to find my friends in the cruising area – honest, that's all I was doing there!!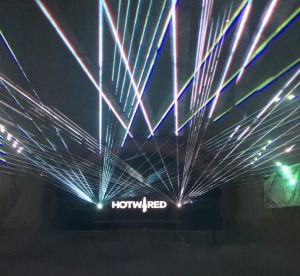 My only complaint with the event – and every Hotwired – is that time goes by far too quickly. We arrived right at the start of the night and before we knew it, it was 4am. The organisation was second to none and was one of the best fetish events I have been to. Everyone I spoke to has said the same and can't wait until the next Hotwired in October 2015.
Until then, we have Hard On once a month with the next event held on May 16 at Club Union in Vauxhall: https://www.hardonclub.co.uk and check out some gear at: https://www.esmale.com/
Photo: Chris Jepson