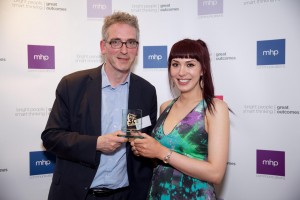 University of Brighton alumna and transgender role model Paris Lees has been named Young Campaigning Journalist of the Year.
The writer, TV personality and transgender activist was presented with her gold award by MHP Communications at a gala event at the home of the British Academy of Film and Television Arts in London.
Paris, who graduated from the university in 2009 with English Language and Literature BA (Hons), said: "This award is lovely on a personal level, but, more importantly, it validates a cause I'm so passionate about – human rights for trans people.
"When I first transitioned, like many trans people, I was depressed and isolated. I looked to the media for inspiration and all I saw were people like me being ridiculed. Five years on and things are looking very different. I'm very proud to have shared a special moment at the awards with so many promising young journalists who don't hate but in fact celebrate diversity."
Paris thanked editors for supporting her: "Journalism is a tough industry to crack and, with the changing media landscape, it's getting tougher. That's why it's great to see MHP Communications encouraging young talent."
Paris, who has presented on Channel 4's Creative Diversity, has met with executives at the Daily Mail, EastEnders and BBC Comedy through her awareness-raising project All About Trans. Last year she was named Ultimate Campaigner at the Cosmopolitan Ultimate Woman of the Year Awards and was invited to a reception at Downing Street with Samantha Cameron. She has also topped the Independent on Sunday's Pink List.
Paris was previously honoured by the university for her outstanding intellectual and public contribution in a variety of media to subjects surrounding transgender issues. A spokesperson said: "She has used some of her writing and thinking abilities gained on the course, combined with her own personal experience and drive to create and sustain an effective critical media presence on a subject of great importance to a variety of constituencies in the city."