Parade to mark 45 years of Pride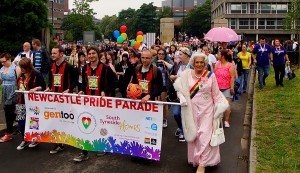 More than 7000 people are expected to take to the streets of Newcastle this summer to celebrate 45 years of world Pride.
On Saturday 18th July, leading LGBT charity Northern Pride, will lead a parade from Newcastle Civic Centre to the Town Moor, to mark the anniversary of the first Pride marches.
The marches, held in New York, Los Angeles, San Francisco and Chicago in June 1970, were inspired by the Stonewall riots of the previous year, in which members of the gay community demonstrated against a police raid in Manhattan.
Similar events are now held annually around the globe, to promote equality, inclusivity and acceptance for the LGBT community, as well as pay homage to this defining moment in gay liberation.
Newcastle's parade, which is expected to take around an hour, will form part of the wider Newcastle Pride festival, which offers three days of live music and entertainment for all ages.
This year's event, which has a One Love theme, will run at the Town Moor from Friday July 17 to Sunday July 19, with highlights including live performances by Irish girl band B*Witched and chart-topper Belinda Carlisle.
Mark Nichols, Chair of Northern Pride, said: "The Stonewall riots followed repeated raids by the police on a venue in Greenwich Village, New York City, which was popular among the LGBT community in the 60s.
"While these original demonstrations were sometimes violent, the Pride marches that followed became a symbol of hope and have continued to have a positive impact for the past 40 years.
"We're very excited about the 2015 Parade in Newcastle and are inviting as many people as possible to come along and join us in this carnival-style celebration."
The Newcastle Pride Parade will depart from Newcastle Civic Centre at noon on Saturday July 18. Anyone wishing to take part is asked to arrive at the starting point at 11.30am.
The parade, and the entire Newcastle Pride festival, is free to attend, although a number of Gold Circle and VIP tickets are also available for those who want to get closer to the Main Stage.