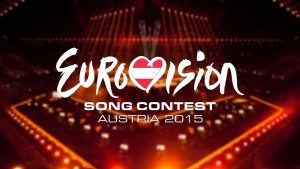 By Gordon Hopps
It's been called the greatest entertainment show in the world, and with viewing figures approaching 200 million, who can deny that title? Alas, it has also been termed 'crapfest', 'campfest' and 'the biggest insult to music possible'. However, no matter what the detractors say The Eurovision Song Contest is still the most successful annual entertainment programme in the world. To prove it, it is celebrating its 60th anniversary with more countries wanting to take part than ever, including Australia.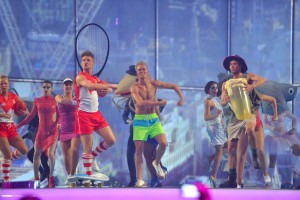 In the UK we may like to deride the ESC, ridiculously thinking that the show has not progressed from its 'Boom Bang a Puppet on a String' days, which incidentally were quite cutting-edge in style themselves in those heady years, but they are wrong. The UK has continually put up new acts and new ideas and it is a misconception by those who have hardly ever watched it to think that way. However, I will concede that some of the songs (and acts) chosen to represent the UK have been a failure, but while we fail, other countries have taken the musical high ground and produced some rather spectacular entries.
In many ways the UK is smug, knowing that most of the ESC will be singing in English and those that aren't will probably get marked down as 'too ethnic'. Other countries have to try harder and see this vast audience as a springboard to success, a glittering opportunity to showcase their country as well as its pop credentials.
Of course there can only be one winner and it is all part of the fun trying to decide just who that might be. If, like me, you're a bit of an ESC geek, you'll probably already know how many of the countries will vote in their partisan way. This is often quite frustrating but it has led to places we don't usually hear about suddenly being thrust onto a huge global stage… and because of that, controversy.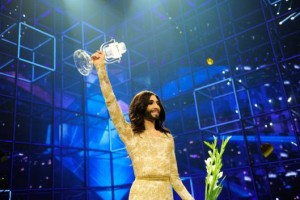 Last year there was uproar over Austria fielding a bearded drag star. The fine Conchita Wurst went on to win the event with the rather stunning 'Rise Like A Phoenix'. The fact that he could sing and perform a dramatic piece of pop made all the critics look foolish.
Back in 1998 Israel's entry was the trans-star Dana International, who, despite death threats and questions in the Israeli Knesset, went on to make her song Diva into an international hit.
There has been many drag stars, old folk, sexy costumes, unflattering outfits and some wild heavy performances in recent years that have made the competition a feast for those of us who love it. That's simply because you never really know what you're going to get next; a vaguely disguised piece of propaganda, a beautiful love song, an operatic aria or some prurient piece of pop that just gets your foot tapping.
For a programme that started in 1956 with only seven countries taking part to the behemoth it is now with 40 competitors eager to claim the crown… you'd be mad to miss such a fabulous, spectacular piece of TV history.
The Eurovision Song Contest Semi Finals will be broadcast on BBC Three on Tuesday 19th May and Thursday 21st May. The Grand Final is at 8pm on BBC1 on Saturday 23rd May
At the time of writing the betting was as follows:
Sweden 2/1 fav
Italy 7/2
Australia 4/1
Estonia 11/1
Finland 22/1
Norway 28/1
Russia 28/1
Azerbajan 33/1
Slovenia 33/1
Iceland 50/1
UK 50/1 Still In Love With You by Electro Velvet