One Man Breaking Bad – The Unauthorised Parody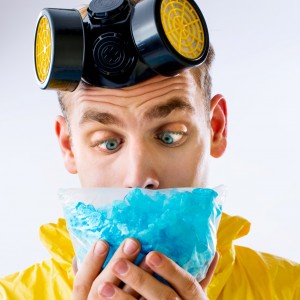 Sixty awesome episodes. One awesome show…Yo!
Following sell-out runs at comedy festivals in Melbourne and Edinburgh, and following his first UK tour this Spring, LA actor Miles Allen will bring his solo show One Man Breaking Bad – The Unauthorised Parody back to the Edinburgh Festival Fringe this year, playing at the Gilded Balloon from 7 – 31 August.
Immediately prior to the Fringe, Allen will take the show to the inaugural Great Yorkshire Fringe from 27 July – 2 August – and will then tour the UK again from October.
LA actor Miles Allen smacks the senses with his super-charged, hilariously accurate renditions of all the iconic characters, including Walter White, Jesse, Saul, Skyler, Hank, Walt Junior, Mike and Gus Fring.
Allen's incredible impersonations break all five seasons down into one, exhilarating, and uproarious tour-de-force parody performance.
Q&A WITH MILES ALLEN FOR ONE MAN BREAKING BAD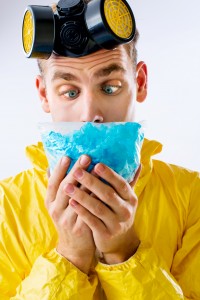 How would you describe One Man Breaking Bad?
It's a farcical love letter to all the people who went through the bloodbath and tears of Breaking Bad and who are wanting to kind of go on a nostalgia trip and laugh at all the different things that made it so special to them. It follows roughly the same timeline and the same plot points, condensed into a much shorter time frame. There are jokes I play on different scenes, including the more serious moments where we have an interesting take on them that leaves the audience in stitches. Along the way there are other pop culture references. It's like a fusion of solo theatre and stand-up. Sometimes I'll make comments about the series and my own experience with it plus there a bunch of other different impressions in the show like Family Guy, Back To The Future and Lord Of The Rings.
Why did you feel Breaking Bad was ripe for parody?
When the show ended, as I'm sure it was for many other people, I felt there was this huge hole in my heart. It was like 'What am I gonna watch now Breaking Bad, the greatest television show on earth, just ended?' I realised there was this huge love and desire to see the characters re-enacted through the YouTube video of mine that went viral in September 2013. It sort of developed from there, creating this one-man show that's like a nostalgia trip for all the fanboys and girls to enjoy.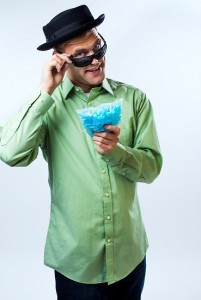 Which characters from the show are featured in your parody?
All the main characters. There a few secondary characters but mostly it's the main ones: Walt, Jesse, Skyler, Walt Jr, Hank, Mike, Gustavo Fring, Marie, Todd, Uncle Jack, the Salamanca twins, and Saul of course.
Which character was the hardest to nail?
The most challenging – not in terms of doing the voice but more because of the social nature of it – was Walt Jr. He's a character with cerebral palsy so it could be perceived that I am making fun of or being insensitive towards someone with cerebral palsy. My argument on that is that to not impersonate Walt Jr just because he's a character with cerebral palsy and not treat him like any other character would be a greater act of discrimination.
It's not the funniest show in TV history so in what ways have you made it comedic?
That's what's so interesting. If I were to do a comedy about a comedic show I'm not sure it would be that funny. Because Breaking Bad was so serious in its nature they had some comic relief on the show – they had to because the audience had to breathe at some point – and it's because of that seriousness that the audience was more willing and ready to laugh to release the tension the show constantly built up. So I found it much easier to make a comedy out of a show that's so serious because people are ready to laugh about it.
When did you discover you had a flair for impersonations?
I kind of say it jokingly but I was bullied a lot growing up and I didn't have any friends. I didn't really have any skills that set me apart either so I kind of felt lost in the shuffle. Some might say I was slipping through the cracks and my parents were concerned too. Then one day I just impersonated Patrick from Spongebob Squarepants on the school bus and everyone was like 'Wow Miles, that was really good'. For me it was like 'Affirmation!' So I bought a Spongebob DVD, watched the behind-the-scene feature about all the various voice actors and I was hooked. I was like 'This is so cool that they do this for a living'. I started to copy them and what they did, I did more and more impressions and that eventually became a repertoire of impressions. I lost count of how many I could do but in high school I think it was around 200.
With Better Call Saul coming up on TV are you keeping an eye on it to see if it could be your next parody project?
Oh yes! I don't want to give anything away about my show but I'm definitely keeping an eye on Better Call Saul. Who knows? A One Man Better Call Saul might be in the works.