Adore Delano – "Give Me Tonight"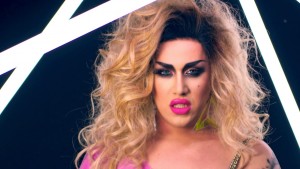 RuPaul's Drag Race favourite Adore Delano releases Give Me Tonight this week, her emotionally charged cover of Shannon's freestyle tale of romantic frustration.
"Give Me Tonight has always been one of my favorite songs," says Delano. "I remember listening to it as a teenager, imagining I lived in the movie Party Monster." She went in to the recording studio intending to stay true to Shannon's original from 1984, while giving it a 2015 Adore facelift. Like Shannon's song, Adore's Give Me Tonight features infectious beats, syncopated rhythms and a dramatically powerful vocal performance that is both heart wrenching and heart pounding. It's her eighth single from Till Death Do Us Party, her debut album that landed on the #1 spot on the iTunes dance charts and made Adore the highest selling artist of any RuPaul's Drag Race contestant.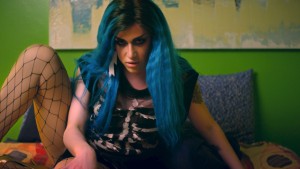 "I'm a sad person," admits Adore Delano from her home in Los Angeles. "I've had feelings of desperation and numbness from failed relationships. The end of a passionate love affair is often devastating, no matter if you are the dumper or dumpee."
Adore says she has been on both sides of the emotional seesaw. "I recently had to tell someone I once cared deeply for, 'I can't love you today'. It was excruciating."
Of course, being told to leave can be even more agonizing but the one thing Adore says she could never do is beg a guy to let her stay, as the jilted lover does in Give Me Tonight. "No guy is worth that."
She also doesn't allow for second chances in a relationship. "I hold grudges," she says.
Adore Delano was drawn to cover Give Me Tonight because, as she explains, "I love the irony of sad desperation set to dance music. It's almost like celebrating sadness and I can get into that."
Give Me Tonight was first released in 1984, as a follow-up to Shannon's "Let The Music Play". It was an immediate hit in clubs, landing at #1 on Billboard's Hot Dance Club Play chart for two weeks and later named as one of the top thirty dance songs of the year by Billboard. It was also a top ten single on the American R&B chart.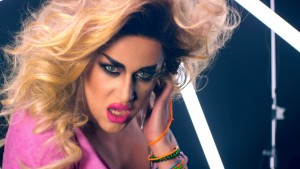 Adore Delano pays tribute to the song's original release date in the music video that depicts the west coast queen of wigs and cigs bathed in neon, oversized off-the-shoulder blouses, an acid washed denim jean jacket and mini skirt, and of course, 80's-style big hair. "I love everything about the 80s," says Delano. "Cigarettes, beer, sex, pop culture, life. Everything was oversized, undersized, bright, pastel. I feel like the 80s were such an experimental time and not just music wise. All the love story movies were better back then."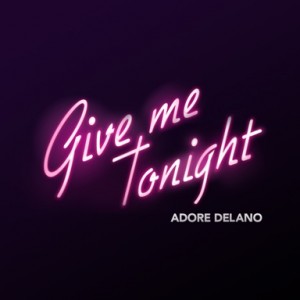 Adore Delano is the break out star from season six of RuPaul's Drag Race. Immediately following the show's finale, she released "DTF", the first single off her Till Death Do Us Party album. The album debuted at #3 on the Dance/Electronic Albums Chart as well as #59 on the Billboard 200. Since then, she has released seven singles and their finely produced music videos.
Give Me Tonight is available on iTunes now.