Walk for Life returns with Tinsel Town theme

This June, HIV and sexual health charity Terrence Higgins Trust will be rolling out the red carpet and shouting "Lights, Camera, Action!", as hundreds of charity supporters transform the 26th annual Walk for Life into a Hollywood Walk of Fame.
The charity is calling for action heroes, child stars, and sirens of the silver screen to take part in the 10km sponsored walk around central London on Sunday 7th June, to help raise funds for people living with HIV in severe financial need. The circular route starts and ends at Bloomsbury Square Gardens, winding its way through the City of London, across Tower Bridge and along the South Bank, before heading north over Waterloo Bridge and back to the finish line.
Participants are encouraged to put their own stamp on the Hollywood theme, whether that means donning Indiana Jones' famous fedora, slipping into Dorothy's ruby slippers, or simply getting gussied up in their Tinsel Town finest. Paparazzi-shy walkers are welcome to go incognito too. The walk begins at 11am and takes around two to three hours to complete. At the finish line, participants will be given a medal, which unlocks a range of special offers at bars and restaurants in central London.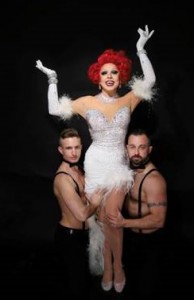 Hollywood Registration for the event is £10 and participants can visit walkforlife.co.uk to sign up and start fundraising. The money they raise will be ring-fenced for Terrence Higgins Trust's Hardship Fund, a project that offers grants to people living with HIV in severe financial need.
Sonya Trivedy, Director of Fundraising at Terrence Higgins Trust, said: "All of our supporters are stars to us, so it couldn't be more fitting to be rolling out the red carpet at this year's Walk for Life. There's no audition necessary; we're just calling for matinee idols, leading ladies, and even pampered pets to sign up and help raise funds for people living with HIV. However much you help raise through sponsorship, it will make a real difference to people who are in desperate need, so please sign up to this year's event."