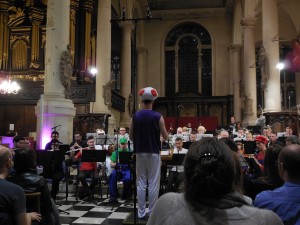 By Terry Gee
When I was a kid, I was made to feel ashamed of my geeky side. Luckily, the world has seen the error of its ways and now being a geek is actually considered cool. Video games, sci-fi, even reading books (albeit on an electronic device)… have all become mainstream. Thanks to shows like The Big Bang Theory and Hollywood pumping money into science fiction and comic book films, we geeks are no longer doomed to hide in the shadows.
The London Gay Symphonic Winds (LGSW) held a concert recently, simply entitled Geek! I was there – sitting near the front, proudly wearing my custom-made Doctor Who T-Shirt. (OK, perhaps that is a little too geeky!) The concert was a celebration of sci-fi, film, opera, TV and even video games. This is the first concert the LGSW has held this year to kick off their tenth anniversary celebrations.
In the first act was a compilation of Star Trek through the years. The beautiful sound of wind and percussion instruments guided us through all of the Star Trek themes including The Motion Picture and Voyager (my personal favourite). Next was a Super Mario Brothers mash-up. Smiles were seen throughout the audience as we envisaged the famous plumber jumping on mushrooms, shimmering down pipes and collecting coins. There were also nods to Game of Thrones and a beautiful piece entitled Year of the Dragon, which I had never heard before.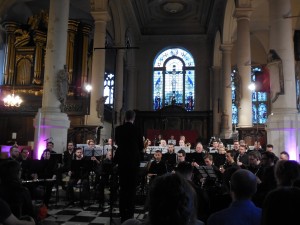 But it was act two that really titillated the inner geek. The members of the orchestra, who had been wearing formal attire before the interval, were now in costumes ranging from video game characters, a few Doctor Whos, Star Trek's Seven of Nine and even Vikings for the first piece Ride of the Valkyries. A musical selection of video games including Halo, Civilisation and Kingdom Hearts was followed by a World of Warcraft suite. Being a WoW player myself, I admit to having a minor geekgasm at this point! The Doctor Who theme got people's feet tapping and then a short pause before the final piece of the night; a symphonic arrangement of Disney's Frozen. This was a perfect ending to this amazing show with most of the audience – and even some of the band – mouthing along the words to Let it Go.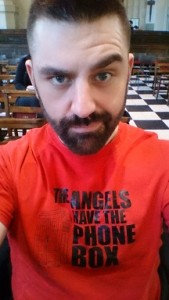 As we left the venue, I had a huge smile of my face and found myself humming along to many of the pieces played. This is a talented group of people who really love what they do and this shows in their music. The arrangements were fun, entertaining and executed perfectly. I wanted more, and I still do. Luckily, there is another performance later this year and it's pegged to be a good one. The tenth anniversary concert will revisit some of the LGSW's favourite pieces from the past ten years. It's not until 10th October though, so add it to your diary now and keep an eye on their website so you can grab your tickets as soon as they become available.
There is nothing quite like being immersed in the sounds of a live orchestra, especially when it's this good.