Pride Launch Diversity Games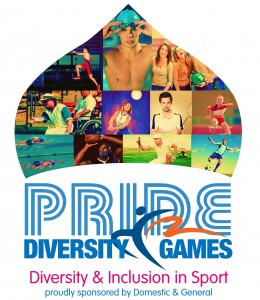 This summer the city of Brighton & Hove will come together for a truly unique event, an event that will see community groups, businesses and individuals united by sport, regardless of sexuality, race, age or ability. Sponsored by Domestic & General the Pride Diversity Games will witness the city immerse itself in a weekend of sporting achievements and fun-filled events.
A weekend that will reflect the wonderful diversity of Brighton & Hove, the Pride Diversity Games will be a citywide celebration as we hop, skip and jump together in a variety of inclusive and fun sporting events including swimming, tennis, football, rugby, athletics, basketball, volleyball, badminton, bowling and lawn bowls.
The 2015 Pride Diversity Games on Saturday 18th and Sunday 19th July will see venues across Brighton and Hove including Withdean Stadium, Preston Park, Hollingbury Golf Course and Waterhall hosting a variety of sporting events. Be it mixed doubles on the courts, hurdles, long jump or relays on the track and field, bowling on the green or football tournaments, the Pride Diversity Games will top your sporting scoreboards this summer.
The Pride Diversity Games, Rainbow Run and Fun Day in association with BLAGSS, will take place on Sunday 19th July at Preston Park, Brighton. A fabulous and free event for spectators, it will be a day for the entire city to enjoy with fun activities including the 5K Rainbow Run, those must-do Fun Day classics Egg & Spoon, Sack Race, Tug Of War challenge and Three-Legged race plus great entertainment and sporting demonstrations for all to enjoy. Sunday's event at Preston Park will also include the Pride Diversity Games prize giving ceremony as well and community picnic, fun and games.
The Pride Diversity Games are a fundraising event for the Rainbow Fund, enabling its continued support of local LGBT+ charities and organisations. Register to join the Pride Diversity Games with your business, colleagues, and friends or as an individual today and help Brighton get sporty for a brilliant cause. It's time to unite with Pride for a sporting day like no other, its time for the Pride Diversity Games 2015.
Pride Diversity Games 2015
Saturday 18th July – Various venues across the city
Sunday 19th July – Preston Park, Brighton