New play about Alan Turing

To Kill a Machine is unique and innovative piece of theatre which offers an empowering and heartbreaking story of a man guilty only of knowledge, homosexuality and refusing to live a lie who was turned into a hero, vilified for his sexuality and suicide and resurrected to hero after his death. It was originally piloted as a play during the 2012 centenary celebrations for Alan Turing's birth during which it was presented at a Science Cafe in Swansea University.
The centenary year celebrations of Alan Turing and the government pardon brought Alan Turing's life-story to the attention of more people but it is the recent film starring Benedict Cumberbatch which has finally seen Alan Turing become a household name. However the film has been subject to some criticism for its lack of factual accuracy about Turing's life and work. To Kill a Machine however has been embraced by computer scientists who have applauded not only Catrin Fflur Huw's telling of Turing's life story but the way she has embedded Turing's own work into the play.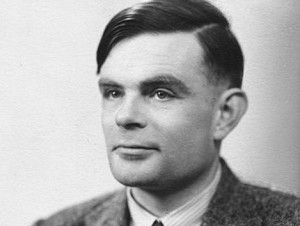 Sandra Bendelow, the producer of To Kill a Machine said, "We always knew that Catrin's play about Alan Turing was very special and had the potential to be something quite incredible. It is amazing to have the support of so many people who want to see the play. It is always really challenging to get support through crowdfunding campaigns but this was genuinely enjoyable. To see how much love, adoration and respect there is for Alan Turing is quite a humbling and overwhelming experience. Alan Turing is a hero to so many people for so many reasons and we're really excited about being able to show people why, and telling the Alan Turing story the way it should be told."
The tour of Wales includes 6th, 7th and 8th May Arad Goch in Aberystwyth, 9th May Theatre Brycheiniog in Brecon, 12th May – Torch Theatre in Milford Haven, 13th May – Blackwood Miners Institute in Blackwood, 15th May – Taliesin Arts Centre in Swansea , 21st May – The Miners in Ammanford, 22nd May in Theatr Hafren in Newtown.
The play will be presented in London at Arcola Theatre on 17th May and will be at Edinburgh Fringe Festival 7th – 31st August.