La Voix & The London Gay Big Band Release Their Debut Double Single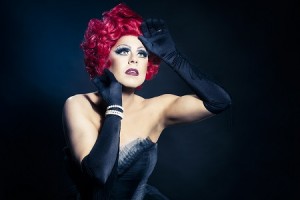 The high art of drag has been elevated to new heights of entertainment in mainstream media. Though a lot of credit for bringing drag to the masses in the new millennium is properly beholden onto the "Queen of Queens" drag matriarch RuPaul her "drag race" has never (necessarily) been the only game in town.
Having recently achieved legendary status as a contestant on the hit competition show Britain's Got Talent emerging drag personality La Voix has impressively made waves with her vocal prowess that are getting everyone's attention and setting the bar remarkably high. The singular talent has been already been compared to RuPaul and Dame Edna — but as a live performer, gender-illusionist and act, La Voix backed by the incomparable London Gay Big Band is a stand-out sensation.
Winning adoring fans on the international spectrum by the millions, was only the start for La Voix who is releasing, much to the delight of her followers a debut "Double Single" CD with beautifully energized and contemporary arrangements of the standard hits "Don't Rain On My Parade" and "New York, New York".
How the artist has brought big band music to the popular forefront is no surprise. For La Voix, who has idolized Judy Garland and Liza Minnelli, it was as natural a fit as the glittering gowns and high heels that make up her stage persona. "The women I adore to impersonate, such as Garland and Minnelli, all come from the era where you always sang with live music with full bands," said La Voix. "When I sing alongside the London Gay Big Band the energy and sheer volume they bring to any performance is second to none." Certainly, the feel of a big band is infectious, and a joy that transcends in La Voix as an artist.
In todays pop world that is moved by electronic dance music, La Voix, working with The London Gay Big Band knew that approaching the arrangements for these classic standards was something that they all had to pay close attention to in order to jive with today's sensibilities. "The marriage of us together [La Voix & The London Gay Big Band] is such a joy and also hard to put into words." Elaborated the artist, "We have recorded two legendary songs but added in a faster tempos, and key changes to try and keep this rawness which we feel makes them truly unique."
For La Voix & The London Gay Big Band, recording "New York, New York" was a particularly moving experience. The song was their first audition piece for Britain's Got Talent and marked the beginning of a remarkable journey and rise to fame. The judges on the show were so moved as to admit: "This is true variety, and you are a great performer," said Alesha Dixon, and David Walliams said: "Now that is a class act." Even the unflappable Simon Cowell was quoted as saying: "This is really authentic, I love the attitude and I like you."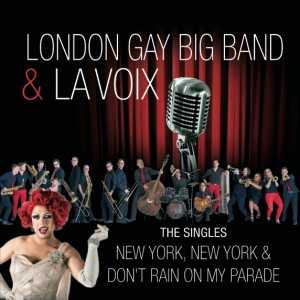 Now the time has come for everyone to bathe in the glow of greatness. La Voix & The London Gay Big Band will debut their "double single" release featuring "Don't Rain On My Parade" and "New York, New York" for the world to kick up its heels to on Friday, April 10 and available for purchase on digital retailers & streaming sites including: iTunes, Google Play, Amazon on Demand, Spotify, Pandora.