New HIV do-it-yourself-test kit now available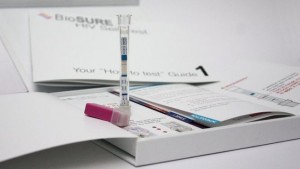 The first legally approved home HIV do-it-yourself-test kit that can return results within a quarter of an hour is now on sale across Britain. Unlike previous self-test kits these do not need to be sent off to the labs before getting a result.
There are reckoned to be thousands of people who are unaware of their HIV status and this kit hopes to encourage those who feel they have been at risk to self-test. However, experts warn that a positive outcome must be confirmed at one of the many STD clinics.
Dr Rosemary Gillespie, Chief Executive at Terrence Higgins Trust, said: "We campaigned for a long time to secure the legalisation of HIV self-test kits which happened in April 2014, so it is great to see the first self-test kits being approved. We know that if people are diagnosed with HIV and start treatment early then they can avoid serious complications and lead long and healthy lives. Unfortunately 24% of people living with HIV in the UK remain undiagnosed so we have to do much more to encourage people to test.
"Self-testing kits are currently provided outside the NHS and will cost money. The main difference between this and other testing options is that it gives the convenience of doing an HIV test at home, with the result delivered outside a clinical setting, which we know some people prefer. However, it is important to make sure people can get quick access to support when they get their result.
"Our website can provide further information about all of the testing options and how to access treatment and care, and for people with a new diagnosis, we would encourage them to sign up to our online service myHIV, where they can benefit from peer support and advice."