Travel – We are Family, especially in Bournemouth!
More and more gay families now include children – adopted, biological, maybe even from previous heterosexual relationships. So where better to take your little darlings than for a fun few days out by the seaside in lovely Bournemouth? Maybe even for Pride (10-12 July 2015)!
Bournemouth is a fab gay place; and a fab place for kids. So, if that ticks both boxes, where better?
Emerging in the early 19th Century out of deserted heathland frequented by fishermen and smugglers, Bournemouth soon became a health spa resort for the well-to-do, before the arrival of the railway led to mass tourism and rapid expansion. Recently voted the UK's Best Coastal Resort at the British Travel Awards, Bournemouth (pop. 180,000) is now Dorset's largest settlement, attracting over 5 million visitors annually with its beaches, beach huts, piers and nightlife. Lower, Central and Upper Gardens are all Grade II-listed public parks, flanking the River Bourne through the town centre as it journeys to the sea.
The town also has many literary associations, mainly from the late 19th Century and early 20th Century. Mary Shelley and her parents, including Mary Wollstonecraft, are buried at St. Peter's Church. Robert Louis Stevenson, Beatrice Potter, Paul Verlaine, JRR Tolkien and Bill Bryson all lived or stayed in town.
STAY
Stay at award-winning boutique Urban Beach Hotel (23 Argyll Road, Bournemouth, BH5 1EB; T: 01202 301509;) – under 5 minutes' stroll from the beach – also boasting a modern buzzing bar p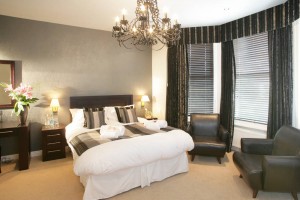 lus bistro. Combining 'home from home' with a dash of modern luxury, the hotel recently won 'Best Small Hotel' and 'Best Bar' at the Bournemouth Tourism Awards. Owned by Mark and managed by Chris, its resident cat (Colin) may have now retired, but the whole small team here is so professional yet friendly! The 12 rooms (2 singles, 10 doubles) each have a different design, many boasting King Size beds, and all have luxury en suite either bath or shower rooms, plus the finest linen and toiletries, free WiFi, plasma TVs and DVD players (free DVD library). Full English and continental breakfast is included – as is complimentary local health club membership during your stay! Grab a cocktail or smoothie at the vibrant, nay decadent bar, before gorging at the on-site 150-seater bistro, with its indoor and outdoor seating, where local/seasonal food is served 8am-10pm, seven days a week!
And this place loves kids! Travel cots are available for free. Children under 3 are free too. Children aged 4-14 can stay in a Z-bed in your room for £30. Older children might like a single room. High chairs are available in the bistro – which has a kids' menu, or can even create mini versions of most adult dishes – and many baby monitors will work from your room into the bar/bistro area. If you are staying on the first floor, in rooms one to three particularly, you may hear some background noise from the bar until 11pm when that closes. Otherwise, the top floor rooms are quiet and have space for a cot or Z-bed.
EAT
Flirt Cafe Bar (21 The Triangle; T 01202 553999;) – More than a snack bar, less than a restaurant! Colourful quirky Flirt, in the heart of Bournemouth's famous gay Triangle, even has a special kid's menu! Your nipper will love all the fun, random features and artefacts – from a few rows of airline seating to unlimited free doggie biscuits! Ace!
Harry Ramsdens (Bournemouth Seafront, Undercliffe Drive, East Beach; T: 01202 295818;) – A trip to the seaside wouldn't be complete without that quintessentially British fish and chip dinner. Harry Ramsdens have been around for 75 years and can hook you with their signature fish and chip dish, or anything else on the wide-ranging menu! They really go out of their way to keep kids happy too – colouring sheets, balloons, games! Stunning location, overlooking sea, beach and pier!
Urban Reef Restaurant (The Overstrand, Undercliff Drive; T: 01202 443960;) – Urban Reef is an informal restaurant, from the team behind the Urban Beach Hotel (see above), located at the newly transformed Overstrand on Boscombe promenade. With bar, café and deli on the ground floor, the restaurant itself is on the upper floor, complete with large terrace overlooking the beach and Boscombe Pier – great for sea gazing and people watching! Enjoy fab food from the extensive menu and take in the panoramic views of Bournemouth Bay and beyond. Kids have their own menu, with an accompanying 'Bizzi Bag' to help keep them occupied!
TOP TEN THINGS TO DO WITH CHILDREN IN BOURNEMOUTH
The best thing about Bournemouth is that you can access most of its natural assets for absolutely free!
1. Beach – seven miles of golden white sand and sparkling sea… all for free! And, as a Coastal Activity Park, you can all try your hand at a range of land and sea fun – from surfing, paddle-boarding or sea kayaking to bouldering, table tennis or beach volleyball.
2. Bournemouth Pier (built 1856, now 305m long) – the former pier theatre is now the fab RockReef activity centre, with its world's-first pier-to-shore PierZip ride (height/weight restrictions apply), plus (indoors) dizzying HighLine adventure, tad claustrophobic PierCave, challenging Clip 'n Climb – and Adrenaline Experience (Vertical Drop Slide, 'Leap of Faith' & 'Stairway to Heaven') for the truly brave! Fab Coffee Reef café, perched twixt sea and indoor fun.
3. Boscombe Pier (built 1889, now 230m long) – "Britain's coolest pier" according to fashion designer Wayne Hemingway, complete with Grade II-listed 1950s entrance! Beautifully uncluttered, with lots of fun installed percussive instruments for kids to play on and with.
4. Coastal Cliff Walks – starting from Bournemouth Pier, do the West Cliff walk for pine-filled chines, a Bronze Age burial plot and cliff top views; or the East Cliff walk out to Boscombe Pier and views of the Isle of Wight and the Needles! If your little sprog gets tired, you can always grab a Land Train and/or Cliff Lift to break or ease the foot journey!
5. Hire Bikes (Front Bike Hire, Undercliff Drive, Bournemouth; T: +44 (0)1202 373280;) – on Bournemouth Seafront, scarce 150 metres east of Bournemouth pier, run by lovely Tom and his team. Offers hourly, daily or weekly rentals – mostly comfortable beach cruiser bikes, or maybe try out a tandem for a laugh! The promenade is flat and traffic-free, perfect for cycling families with children. Head west, out towards Poole and the Sandbanks peninsula; or east, out towards Hengistbury Head, to the Visitor Centre and quiet sandy beaches there!
6. Oceanarium Aquarium (Pier Approach, Bournemouth;) – The award-winning Oceanarium is the perfect all-weather attraction – discover the mysterious beauty of our watery world in a spectacular underwater journey. From stunning sharks, curious rare green sea turtles and brightly coloured clownfish, to menacing piranhas, venomous lionfish and the weirdly wonderful octopus – they are all waiting to be discovered!
7. Bournemouth Balloon (Lower Gardens, Bournemouth;) – Bournemouth's highest attraction! Let your imagination soar up to 150 metres, as you experience Bournemouth in a whole new way, from the 28-passenger gondola of a giant 70-foot wide helium balloon tethered to a steel cable in the Lower Gardens! Weather permitting, naturally! An audio commentary points out all the sights far down below!
8. Laser Quest (Glen Fern Road;) – The UK's newest and most exhilarating Laser Quest centre! Whether you're 6 or 66 you'll love the adrenaline pumping exhilaration of stalking your opponents and unleashing a volley of Laser Fire in the Battle-Zone of the next Century! Open 7 days a week, 10am 'til late!
9. Russell-Cotes Art Gallery & Museum (East Cliff, Bournemouth;) – a home, an art gallery and a museum, courtesy of its eponymous Victorian owner-philanthropist! A gorgeous space full of beautiful art and artefacts from around the world. Lovely Urban Renaissance Café, and pretty gardens, too. Shut on Mondays.
10. Bournemouth Pavilion – take in a fun concert or show at this landmark Art Deco venue, oft host to the nationally and internationally renowned Bournemouth Symphony Orchestra.
BOURNE FREE (BOURNEMOUTH PRIDE: 10-12 July 2015 That said, all ages love a party! And, one of the best community Pride Festivals in the UK, this year's Bourne Free (Bournemouth Pride) centres around Saturday 11 July 2015 with its 'Broadway'-themed Parade from East Cliff (11am) to The Triangle (12 noon), followed by an afternoon (12.30pm-4.30pm) of family fun around the Bandstand in Lower Gardens, featuring live acts and special guests; not to mention entertainment throughout the weekend at The Triangle Arena, with its stage and big screen – very much something for all ages!
Of course, you're unlikely to sneak your sprog past the bouncers at the clubs, and – even where its licence permits it – a pub can be a bit of a bore in a child's bigger scheme!