BEEFMINCE is an annual event where you can continue the London Pride celebrations at Corsica Studios, an independent venue located in two railway arches immediately behind the shopping centre in the Elephant and Castle. The club is divided into two arches – the main room with a bar area and a second, slightly smaller room. There is also an enormous terrace and smoking area to the rear of the club that is completely self-contained and open throughout the night.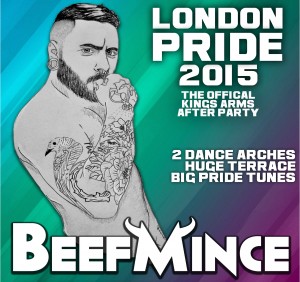 BEEFMINCE is the official after-party of the oldest pub in Soho, The Kings Arms, and is also sponsored by Bear World Magazine and London's dance radio station, This Is Electric.
In the BEEF ROOM you will hear big dance tunes, vocal house and big, pumping basslines. The music will of course reflective of Pride celebrations so expect to hear a few anthems too! We have a sensational line-up, cherry picking from the capital's most talented DJs, including Simon_M, Ross Jones, SpinJump and our resident, Silverhook (HOT FUZZ).
The meat boys and Wes DB in the MINCE ROOM will be delivering top disco tracks, uplifting funk sounds and everything in-between.
Saturday 27 June 2015 is an important date for the gay community in London; the London Pride parade is an ongoing campaign about the issues that are important to us (fight for equal rights and challenge homophobia) but also a great celebration of our progress so far. We created BEEFMINCE because the London club-land deserves a night-time celebration of these achievements, a quality event that meets the needs of the community and promotes London as the clubbing capital that it deserves to be.
TICKETS PRESALE – £10 available now on-line or at The Kings Arms, Soho DOOR – £15
Online Ticket Site: dating for christians
Facebook – BEEFMINCEClub Twitter – @BEEFMINCE