Travel – The Canterbury Males!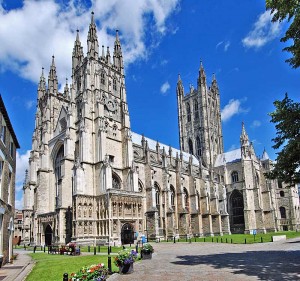 Roll over, Chaucer! We've our own Canterbury tale to tell! Brimming with ancient heritage and heavenly student hoards, Adrian Gillan is hell-bent on arguably the most historic town in Kent!
Resting on the River Stour, little Canterbury (population 55,000) boasts a UNESCO World Heritage Site (Canterbury Cathedral, plus St. Augustine's Abbey, plus St. Martin's Church, the oldest church in the English-speaking world); and is the seat of the Archbishop of Canterbury – primate of the Church of England and the worldwide Anglican Communion. So already sounding pretty gay!
Called Durovernum Cantiacorum in Romano-Celtic times, by the early Middle Ages the town had become known by the Anglo-Saxon name of Cantwarebyrig – "fortress of the men of Kent". In 597, Pope Gregory sent Saint Augustine to convert Britain to Christianity, after which Augustine became the first Archbishop of Canterbury, prompting an economic revival, notably in pottery, textiles… and leather! The town was then ravaged by Vikings, then conquered by Normans, becoming a shrine and place of pilgrimage after the murder of Thomas Becket in 1170 – the backdrop to Geoffrey Chaucer's Canterbury Tales. Then came the Black Death, the Dissolution of the Monasteries and the English Civil War.
The Canterbury and Whitstable Railway became the world's first passenger railway in 1830 – now the aptly-called Crab & Winkle Line, just for walkers and cyclists! After World War Two, when the city was extensively bombed, a ring road was built in stages outside the city walls to alleviate growing traffic congestion, and the city centre was later pedestrianised. But then another gay explosion: huge numbers of young students appeared from the 1960s onwards, with the arrival of the big new unis – the University of Kent, Canterbury Christ Church University, the University College for the Creative Arts, and the American University!
Colourful most-likely-gay Elizabethan dramatist Christopher Marlowe was born/baptised and studied here. Other famous people born in Canterbury include actor Orlando Bloom, cricketer David Gower and writer Somerset Maugham. Author Joseph Conrad is buried in Canterbury Cemetery.
Sights
Canterbury boasts a trove of history and culture, much of it penned inside large surviving fragments of the old city walls…
Beaney House of Art & Knowledge – houses Canterbury's excellent Visitor Information Centre, plus an art gallery and museum, the latter well-nigh a 'cabinet of curiosities', with its vast and varied collection of objects from across the globe. Admission free.
Canterbury Roman Museum – remarkable museum of Roman Canterbury, including an in situ mosaic pavement dating from around 300 AD.
Dane John Mound – once a motte-and-bailey fortification, it was then landscaped into the Dane John Gardens in the 18th Century, with a memorial placed on the mound's summit, from which there are fantastic views. Admission free.
Canterbury Castle – ruins of a Norman castle keep built in the 11th Century. Admission free – from morning until dusk.
Canterbury Cathedral – seat of the Archbishop of Canterbury, Chief Primate of the Church of England! Let the Welcome Centre orientate you, then book yourself on a guided tour, to see the tombs of King Henry IV and Edward the Black Prince, plus the site of Thomas Becket's murder in 1170. Fab grounds too, including Cathedral Lodge accommodation!
Canterbury Tales Visitor Attraction – one of Kent's most popular attractions inside historic St Margaret's Church, bringing to life 14th Century England and, notably, five of the most colourful characters in Geoffrey Chaucer's Canterbury Tales (1387-1400) – a bunch of highly diverse pilgrims passing the time between London and Canterbury with an informal story-telling contest, the winner to get a free meal back at The Tabard Inn in Southwark on their return!
Canterbury Historic River Tours (depart regularly in summer from Kings Bridge, by The Old Weavers Restaurant) – guided, light-hearted river tours.
For summer, the coastal towns of Herne Bay and Whitstable are just 6 miles north of Canterbury.
Theatre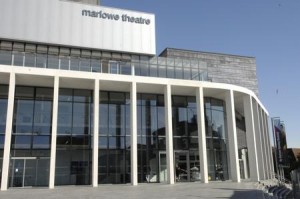 Named after colourful local gay great Elizabethan playwright, Christopher Marlowe, the redeveloped, landmark Marlowe Theatre (Box Office on 01227 787787) is now the largest such venue in the region, hosting touring productions and concerts – including musicals, drama, ballet, contemporary dance, classical orchestras, opera, children's shows, pantomime, stand-up comedy and more besides. A second, smaller performance space, The Marlowe Studio, is dedicated to creative activity and new work. The Marlowe's fab-looking Spring/Summer 2015 season includes Jonathan Harvey's iconic gay-affirmative play, Beautiful Thing (23-24 March 2015), staring Charlie Brooks (Janine Butcher from EastEnders)!
Enjoy a pre-show drink at one of the theatre's stylish, spacious and lively bars, on three levels, all with stunning views of Canterbury.
And savour the friendly atmosphere in the theatre's relaxed, cosy and informal café-bar-restaurant, The Green Room, which serves freshly-cooked locally-sourced food. The Green Room is open for snacks, lunch and pre-show meals Monday to Saturday, 9am – 8pm – only closed on Sundays and Boxing Day. Reservations can be taken for both lunch and pre-show meals, and the pre-show menu (with an option to have the desert at the interval) is available from two hours before the performance. In summer, you can even dine alfresco out on The Sunley Terrace overlooking the lovely River Stour. To book a table, call 01227 862485.
The vibrant Gulbenkian Theatre, at the University of Kent campus, just North West of city centre, also houses a great cinema and café.
Stay & Eat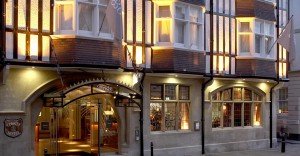 You simply must stay at centrally-located, Brit-chic boutique hotel ABode Canterbury (High Street, Canterbury CT1 2RX; T: 01227 766 266;) which wonderfully combines the old wooden beams of a former bank building with contemporary design features and modern comforts.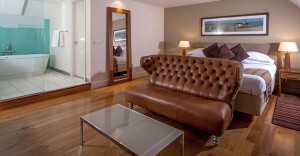 Within the ancient city walls and a short stroll from the cathedral, its 72 bedrooms come in a range of categories – Comfortable, Desirable, Most Desirable, Enviable, Most Enviable and FABulous, all designed with a sense of luxury and relaxation. Some have fab wet rooms and baths integrated into living areas and the FABulous suite even boasts a rooftop terrace with stunning views out over the city.
A great perch from which to spy the buzzing High Street, the hotel's Champagne Bar offers a great choice of Champagnes by the glass, bottle or magnum, as well as deliciously decadent cocktails, plus coffee and cake during the day.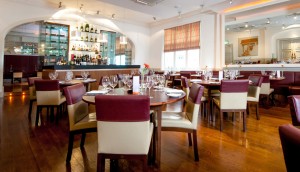 Fine dine at one of the city's best eateries, the hotel's County Restaurant, offering delicious modern European cuisine using seasonal local produce paired with great wines, with top-notch service that avoids being too stiff or starchy. Lunch and dinner is served every day (except Sunday evenings) with à la carte main courses starting from just £8.50 at lunchtimes, and from £15.50 for dinner. Five course tasting menus are also available every evening for £55 per person, or £85 with matching wines, with pre-theatre dining menus also available, as well as special menus for those looking to celebrate Mother's Day and Easter Sunday.
For something more informal, try sister restaurant, the Old Brewery Tavern, just around the corner. Ace contemporary pub food, with lunch options including favourites such as fish and chips, burgers and sausage and mash, as well as salads, sharing plates and steaks – accompanied by a 'taste of Kent', featuring the best local ales and fruit juices from within the county. Open until midnight on Sunday and until 2am Monday to Saturday, the venue takes on more of a party vibe after dark, with resident DJ.
Overnight stays at the ABode Canterbury start from £109 per night, based on two sharing on a B&B basis. The hotel also offers great packages throughout the year, including a 'date night' package, which includes a chilled bottle of Prosecco on arrival, three course à la carte meal in The County Restaurant, overnight accommodation and full English breakfast the following morning, from just £179 per room, per night, based on two sharing.
Scene
With just one LGBT bar in town, it's definitely quality, not quantity, in Canterbury! Thankfully, bright and modern Limes Lounge (13 Rosemary Lane; T: 01227 455164;) is always abuzz with lots of cute young students, all too keen to throw some shapes on the dance floor!
And gents have been known to 'take airs' of an eve in Toddlers Cove Park, or in Dane John Gardens.