The Interview: Adam Lambert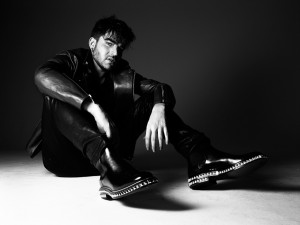 A few years ago Adam Lambert burst onto the pop scene as the extraordinary runner-up in the American Idol TV show. He was by far the best thing on the programme but just prior to the final it became public that he was gay. This may or may not have affected his chance of winning but there is no doubt about the fact that since then, his voice has propelled him to audiences of millions. It was his version of Bohemian Rhapsody that attracted the attention of Brian May of Queen and the subsequent offer to replace, replacement vocalist Paul Rodgers, as lead singer of the band who were about to tour. Adam's camp confidence and powerful vocal range being just the thing that Queen needed to complement, and hopefully continue, the legacy of frontman Freddie Mercury.
In a new interview with hungertv.com he explains what it was like on those first few shows.
I wanted to dive right into their reputation for theatricality and camp. To avoid or downplay that energy would feel sacrilegious. I approached it like I was co-curating a staged retrospective of the history of the band. One section of the show was my tribute to their 70s Glam period and I didn't hold back! Fringe, rhinestones and platform heels felt only appropriate. In my opinion, this is all part of why audiences fell in love with the band in the first place.
I was honoured and excited – and then the fear reared its ugly head. I thought, "yikes I don't want to be compared to the incredible Freddie Mercury". Who would? He's a god in my book.
Asked if he was a fan of British culture.
Yes! I've been spending a lot of time in London this year. I love the pop music coming out of the UK right now. Vulnerably soulful vocals and this house revival are turning my crank. I've always been drawn to British film and TV as well – there's a great emphasis on witty banter and sarcasm.
Does he feel his style of performing has changed over the years since American Idol?
I definitely feel both a personal and professional evolution over the past five years. I think I've become more well-adjusted to the strangeness of fame and more grounded in my personal life. I don't overwork my performances as much as I once did; as an entertainer, sometimes less IS more. Personally speaking, I've tried to take a similar less is more approach to life. That being said, I still have extravagant tendencies but I think I've managed to balance things out a bit better. I'm still my own worst critic, but I'm giving myself better reviews these days.
He has a new album soon to be released called 'The Original High', so what can we expect?
Sonically it feels more contemporary than my previous material. It's definitely pop but not bubblegum. We have avoided camp and theatrics and have favoured a darker, more grounded vibe, and at the same time, it will make you dance! Lyrically, it's very, very personal, the album has an overall bittersweet feel to it. Vocally, I think it's my most tasteful, sophisticated work to date.
Photo by Rankin