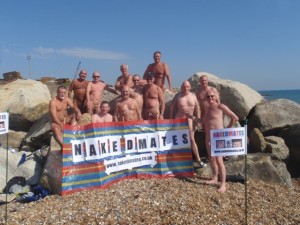 With Spring well and truly on it's way, many people will be casting their minds towards summer holidays in exotic climes. If you are bored of the same old holidays and are looking for something out of the ordinary, Naked Mates are arranging a holiday with a difference. As the name suggests, Naked Mates holidays are for guys who like to get naked with other guys.
Naked Mates Holidays are based at the fantastic and exclusive clothing option Rainbow Golf Resort in Maspalomas, Gran Canaria and takes place from 17th – 24th October. The resort is ideal for relaxing, enjoying the sun and socialising with Naked Mates old and new. The resort is only a 5 minute taxi ride from the main Yumbo Centre, or in the other direction the chic and sophisticated resort of Melonares and the famous dunes. Whilst everyone is free to make their own plans guys often form into groups and either go to the beach, spend the day by the pool, go sightseeing or go into the town. There will be a welcome party, so that everyone gets to know each other and make new Naked Mates.
Due to popular demand following previous holidays, Naked Mates will again be also be arranging an optional one day naked sailing cruise, spending all day on a chartered Naked Mates yacht. Any guys joining this can enjoy snorkelling, swimming and dolphin and whale spotting in the Atlantic Ocean with lunch and drinks included.
Prices are charged per bungalow, not per person, and the cost for the above week is £268 UK Sterling each, based on two people sharing or £536 for a single occupancy bungalow. It is also possible to upgrade to a Bungalow with air con for a small additional fee.
The deposit to secure your place is £65 UK Sterling per person (if you are sharing with another Naked Mate) or £130 UK Sterling if you want a bungalow to yourself and is payable via PayPal through the Naked Mates website. Once you have paid your deposit, you will be contacted to confirm your booking reference number and to arrange payment of the balance. Deposits are non-refundable.
To book your place, simply go to nakedmates.co.uk, sign up and click on the holiday button. These holidays have proved to be extremely popular in the past so places are limited. Don't worry if you do miss out as Naked Mates run 2 holidays each year so there is always next time.