MPs present cheque to Terrence Higgins Trust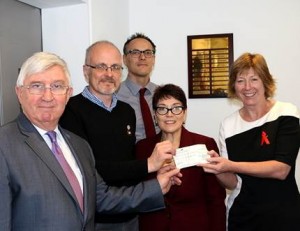 (Left) Dr Hywel Francis MP, Ray Goodspeed, (far background) Dr Shaun Griffin, Executive Director of External Affairs at Terrence Higgins Trust (centre) Siân James MP, (right) Dr Rosemary Gillespie
MPs Dr Hywel Francis and Siân James have presented a cheque for £4,000 to sexual health and HIV charity Terrence Higgins Trust.
The funds were raised through the Mark Ashton Red Ribbon Fund at a recent event in Onllwyn to commemorate the 30th anniversary of the miners' strike and the historic alliance between the Neath, Dulais and Swansea Valley Miners' Support Group and the London-based Lesbians and Gays Support the Miners (LGSM).
The event also saw the launch of a new edition of Dr Hywel Francis' book on the miners' strike, History On Our Side, the proceeds of which will also benefit the Mark Ashton Red Ribbon Fund.
The story of LGSM inspired last year's hit film Pride. One of the central characters in Pride is Mark Ashton (played by Ben Schnetzer). Mark set up LGSM to help the miners in the mid-1980s, but died just 12 days after being diagnosed with late stage HIV in 1987. The Red Ribbon fund was set up in his memory. Mark's friend Chris Birch set up the fund which has raised £15,610 to date.
Dr Francis, MP for Aberavon and Siân James, MP for Swansea East (who is played by Jessica Gunning in Pride) – along with Ray Goodspeed, one of the founding members of LGSM – visited Terrence Higgins Trust on Grays Inn Road, London, on Wednesday 18th March, where they presented a cheque for £4,000 to the charity.
The MPs said: "It was our great pleasure to present this cheque to the Terrence Higgins Trust in memory of Mark Ashton who was one of the founders of the LGSM and this vital link with our community in South Wales. Their generosity and sense of solidarity was a real lifeline for our community during what was a very difficult time."
Ray Goodspeed said: "It is tragic that Mark died from an AIDS-related illness in the prime of his life, and we hope that this donation will help the important work that the trust is carrying out to help those suffering with HIV/AIDS."
"I am really moved that the solidarity work of LGSM during the Miners' strike is still remembered today and that it has allowed us to contribute to the vital work of THT in this way.
"This donation is also the perfect way to honour the vital work that Mark Ashton did during the strike as well as a way to remember the tragic, untimely death of someone who was a force of nature and a really dear friend and comrade."
Dr Rosemary Gillespie, Chief Executive of Terrence Higgins Trust added: "We are so delighted for the support of the Lesbians and Gays Support the Miners' Group and the Neath, Dulais and Swansea Valley Miners' Support Group through the Mark Ashton Red Ribbon Fund. THT is immensely proud to be part of Mark's legacy. It is inspiring to see that 28 years after his death, Mark's activism still moves people to make a difference to the lives of people living with HIV."